The number 1 cryptocurrency exchange in Poland
Create an account, deposit zlotys with bliks and instant transfers. Trade and earn money now!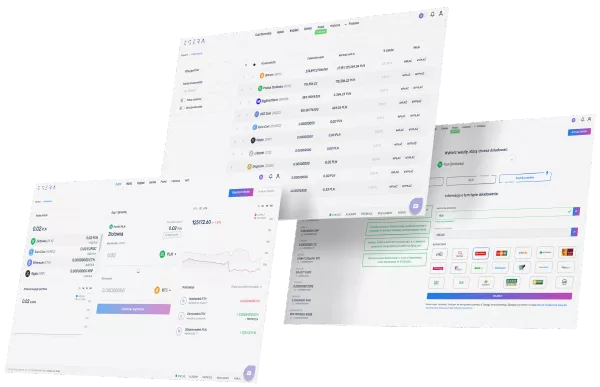 | | Name | Exchange rate | Change 24h | Change 7 days | Market capitalization | Buy |
| --- | --- | --- | --- | --- | --- | --- |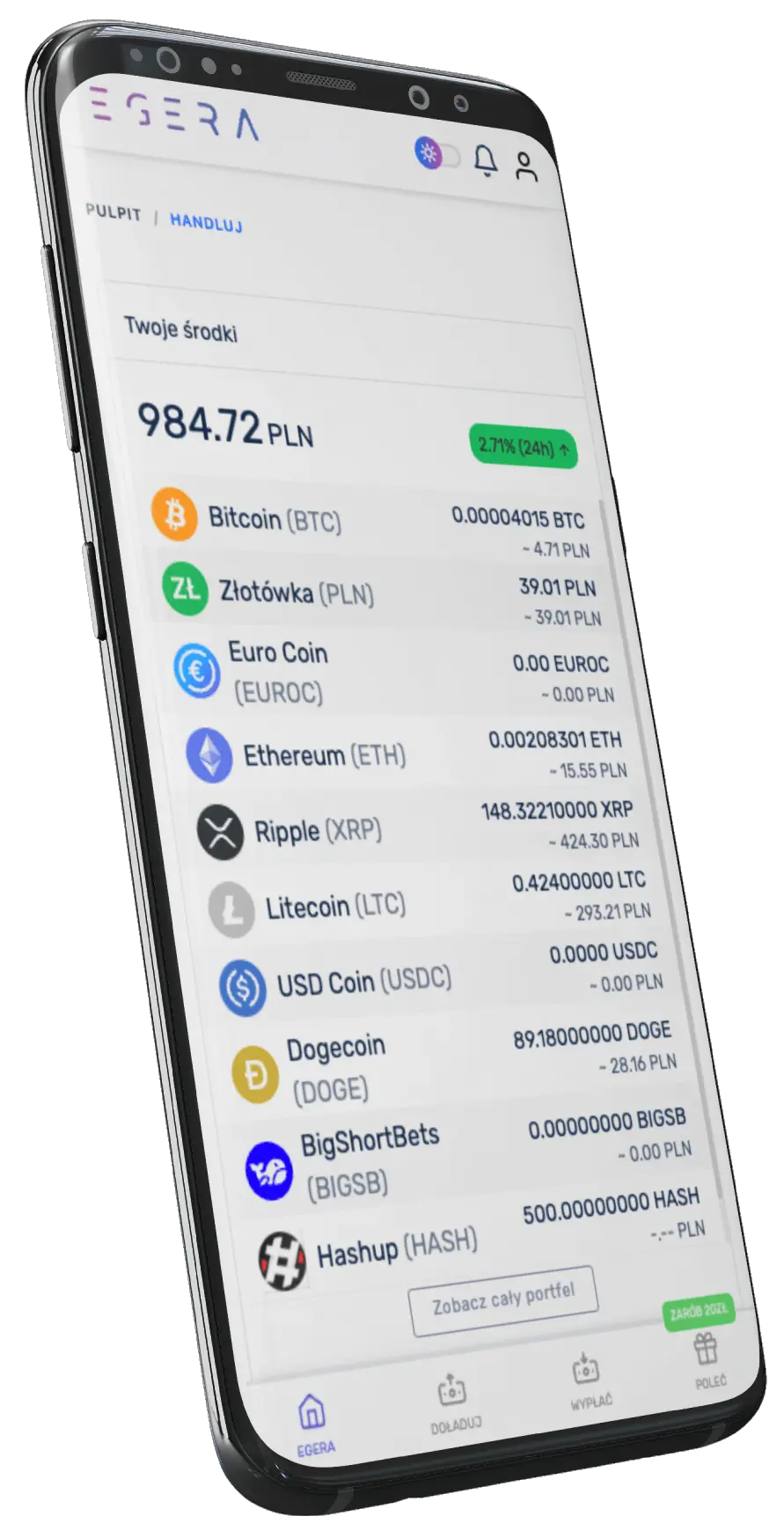 Explore the fastest cryptocurrency trading
QUICK REGISTRATION
Create and verify your account in less than 5 minutes.
FAST DEPOSITS AND WITHDRAWALS
Blik payments, quick link and bank transfer booked 24/7.
QUICK EXCHANGE
SPOT Exchange, Instant Exchange and Quick Swap.
EXCLUSIVE MARKETS
Only in EGERA, the AdShares, Big Short Bets, HashUp and USD Coin market paired with a zloty.
ACCESS TO INSTANT PAYOUTS
Only with us you can make an Express Elixir bank transfer to your own account around the clock.
IOS AND ANDROID APP
Access to trades, cryptocurrency wallet, market news and much more! The EGERA app gives you all this.
Create a cryptocurrency portfolio!
Create an account on Egera, invest in cryptocurrencies, earn on referrals.
1
Create an Egera account
The first step in your adventure with cryptocurrency trading
2
Earn by referral
Get 60% commission on every transaction of the user you refer!
3
Gift card with cryptocurrencies
Give someone a gift by buying a gift card containing cryptocurrencies!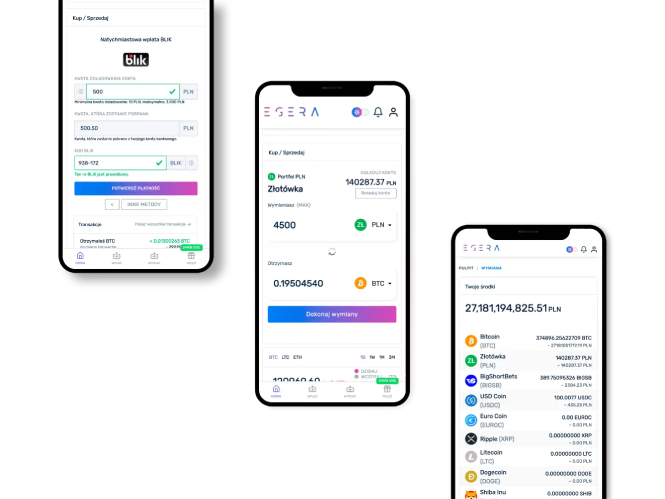 Instant

deposit payment

GIFT CARD

Give someone else a gift!

Affiliate Program

Recommend EGERA, trade with your friends and earn up to 0.84% from the trading turnover of your referrals.
What do you expect from a cryptocurrency exchange?
Everything you want can be found in EGERA

Account maintenance for free
Low fees are extremely important. That's why with EGERA you only pay for completed transactions.

Low commissions
At EGERA, we charge the lowest commissions compared to other platforms with the same functionality. Trade crypto from just 0.3% per trade.

Perfect User Experience
A convenient and intuitive application in Polish is our foundation. When creating our solutions, we always focus on making crypto trading pleasant above all.

Safe zloty deposits and withdrawals
Thanks to the payment institution, you can be sure that your deposited zlotys are safe. In addition, we are the only exchange to book deposits and settle withdrawals 24/7!

Support in Polish
Our customer support team looks after your every transaction. This makes using the exchange a pure pleasure.

Affiliate Program
Recommend EGERA, trade with your friends and earn up to 0.84% from the trading turnover of your referrals.
Quick verification
Egera is the first cryptocurrency exchange in Poland to introduce such a fast identity verification system. It only takes a minute to process a scan or photo of your ID document and fully activate your account.
Quick deposits
Time is of the essence on the cryptocurrency market. That's why we provide you with fast and convenient Blik deposits, link transfers and processing of deposits and withdrawals via Express Elixir immediate transfer straight from your bank account.
Secure wallets
Cryptocurrencies on the EGERA wallet are stored in accordance with the standard of good practice. 95% of them are stored on so-called cold wallets. This means that these funds do not have a physical connection to the Internet, and the remaining 5% are secured by an operational reserve.
Professional support in Polish
Our cryptocurrency exchange was created to make cryptocurrency exchange quick and convenient. However, our customer support department will help you in any situation where you need it.
Quick replacement model
EGERA was one of the first cryptocurrency exchanges to introduce an overlay to the exchange module, giving you quick access to all markets. Quick exchange through several markets simultaneously in a few clicks without requiring much knowledge and time has never been so easy!
We comply with local regulations
As a leader among Polish cryptocurrency exchanges, we were one of the first institutions to receive an entry in the register of entities dealing in cryptocurrency trading, the so-called VASP license. This means that we operate legally in Poland.
Safe trading on EGERA

Secure market connection
Encryption of the connection makes the data sent and received from our platform safe and hidden from unauthorized access.

2FA authentication
Thanks to the possibility of authorizing with Google authenticator codes, your account is much more secure than the standard security features of other exchanges.

Full deposit coverage
As an exchange operator, we trust our systems so much that we keep our funds in EGERA wallets ourselves. Unlike other exchanges, we have full coverage of all deposited cryptocurrencies.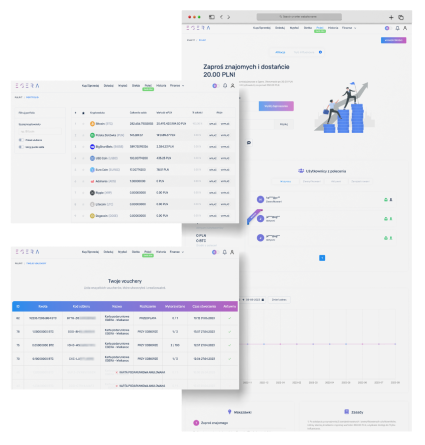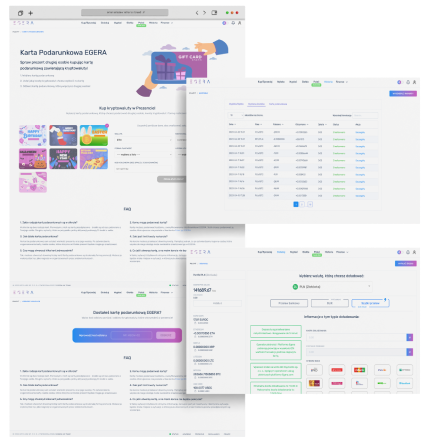 Nearly 15 years of experience
We have been in the financial technology industry for nearly 15 years. We create solutions tailored to market needs so that cryptocurrency trading is fast, convenient and secure.

98% of funds secured on cold wallets
The security of funds is our priority. That is why we store as much as 98% of deposited cryptocurrencies in cold wallets based on a multi-signature. These wallets are cut off from the Internet.

Bug bounty program
We take care of safety. Any reported irregularities are fairly compensated.
Our advantages

Polish Cryptocurrency Exchange
Deposit Polish zlotys at your convenience. You can choose from fast BLIK payments, the ability to top up your account with a traditional transfer including instant Express Elixir booked 24/7, and payment via a link from selected banks.

Licenses
We have all the necessary permits and licenses to make your trading not only convenient but also safe

Deposits and withdrawals 24/7
We are the only cryptocurrency exchange in Poland that settles deposits and withdrawals by traditional transfer in this instant Express Elixir 24 hours a day, 365 days a year.

Best affiliate program
Recommend EGERA to your friends and earn up to 0.84% of their turnover on our Platform! For each introduced first five friends, you receive as much as 30% of the commission we collect.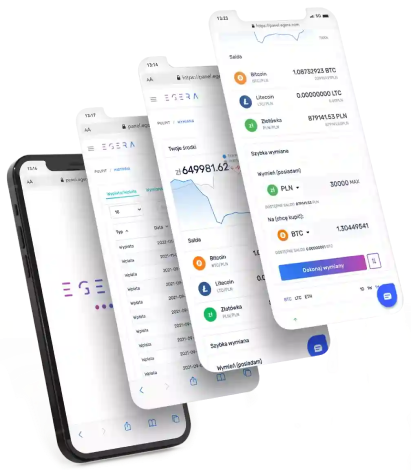 What should you know about the exchange?
Good cryptocurrency exchanges have certain characteristics. The ranking of cryptocurrency exchanges does not always mean that the exchange is the best. Facts are important. When using EGERA, the facts speak for themselves

Deposit fiat currencies
Only on our platform you can conveniently deposit and withdraw zlotys 24/7. Express Elixir transfers are booked and processed around the clock, also on holidays and weekends.

Trading module
EGERA is a real exchange. If you want to have full control over your spending, trade freely using the Limit order option and create the market around you!

Quick Swap
Don't want to set the exchange rate yourself? With EGERA, that's no problem. Thanks to the Quick Swap module, you can freely exchange currencies with each other even across several markets. All this for one low transaction fee.

Vouchers
Create a gift card and give it to your friends. Bitcoin is always the perfect gift, whatever the occasion.

Egera Academy
EGERA is not only a cryptocurrency exchange, but also a knowledge zone that will help you make better investment decisions. Visit the Academy tab and check what we have prepared for you.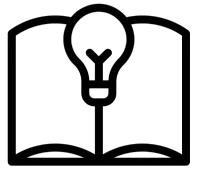 Learn & Earn Zone
Thanks to the Learn & earn area, you will discover new projects and gain exposure to their growth. All this thanks to the reward in the form of cryptocurrencies that you will receive from knowledge tests.
FAQ - everything you need to know about the EGERA cryptocurrency exchange