The EGERA bitcoin exchange is, according to many users, the best place to buy their first cryptocurrencies. We introduced our service to the market before cryptocurrency exchange offices became fashionable. Since February 2019, we have handled over a million transactions. Importantly, EGERA was the first bitcoin exchange and the cryptocurrency exchange received permission to operate payment accounts. This allowed, among others, to make payments to a secure bank account. However, let's discuss step by step what distinguishes our cryptocurrency exchange on the market:
Quick registration
The EGERA bitcoin exchange is primarily about speed. Therefore, the registration process takes only a few moments.
In the first step, we don't require anything from you other than providing your email address, password, selecting the country of your tax residence and accepting the terms and conditions,
Next, go to your e-mail and confirm your account registration by clicking on the link. Now all you have to do is enter your phone number and enter the authorization code.
Done! You are now in the user panel!
Instant identity verification
Nowadays, every legitimate cryptocurrency exchange broker requires identity verification. However, this does not mean that this process has to be complicated. In EGERA, verification is only related to:
sending an identity document, i.e. a scan of an ID card or passport.
sending a FaceID face scan,
A system based on A.I. will verify your identity and you will know the result in less than a minute. You will receive an SMS and an e-mail about its positive course or rejection.
Rejection of verification is extremely rare. It is usually caused by mechanical damage to the ID document, covering data on it, or cutting corners, i.e. cropping on the sent document.
Deposits
What would a bitcoin exchange be without fast transactions? It certainly wouldn't be called EGERA! Check out what payment methods we have prepared for you!
BLIK deposits - just enter the 6-digit code from the bank's application, accept it and that's it! PLN is on your account!
Deposits to the account 24/7 - For us, bank deposits are essential. on Holidays, your traditional Express Elixir transfer will be credited in less than 15 minutes.
Of course, you can also send a deposit using a traditional Elixir online transfer. We post them from Monday to Friday in sessions of the National Clearing House. Please note that elixir transfers are not supported on holidays.
Transaction using a link - Don't want to fill in the online transfer form? It's not a problem. Just select the link payment, find your bank icon and confirm the transfer!
Remember to make transfers only from your own bank account. The Customer Support Department may ask you to confirm a blik transaction. If data inconsistency is detected, your transaction may be be blocked or revoked depending on the payment method.
Cryptocurrency exchange in the Quick Swap model
Other cryptocurrency exchange offices have top-down transaction limits. You cannot buy ethereum for an amount greater than PLN 10,000. This is due to the liquidity limitations of the operators of these exchange offices. In our model, this problem practically does not occur. All this is due to the model quick swap.
EGERA is not only a bitcoin exchange, but above all an exchange. On a good cryptocurrency exchange, problems with the liquidity of markets such as ethereum, bitcoin or litecoin do not exist. All this is due to the fact that many users carry out transactions with each other. On our platform, you can freely purchase bitcoins without worrying about transaction limits.
The only thing you need to remember is that not every market has a similar depth. For some currencies, the number of offers and their value may be lower, but usually it is significantly higher than the transaction limit adopted by other cryptocurrency exchange offices.
Btc and other cryptocurrency withdrawal
Our cryptocurrency exchange allows you to freely withdraw bitcoin, ethereum or other cryptocurrencies. To make a withdrawal, you only need an external wallet address.
After you make a bitcoin, ethereum or other cryptocurrency withdrawal transaction, you will receive a unique txID. This is a string of characters that allows you to track the transaction and verify that it was actually completed. The TXID is unique on one blockchain. However, some identifiers transactions can be seen on multiple blockchains, e.g. the main chain of the bitcoin network and its fork, e.g. the bitcoin cash network.
Keep in mind that your own bitcoin address is inherently anonymous. Avoid creating addresses that could be associated with your data. Btc is synonymous with privacy. You don't want to give out your phone number or name to ruin it!
Support
The support department is the most important people in our team! They stand between you, the person who wants to use the cryptocurrency market, and our technical department, which provides you with the world of blockchain technology.
The Customer Support Department is not only responsible for providing technical comments, but above all for the ongoing execution of transactions. Our consultants will be happy to answer your questions, help you make your first btc purchase and help with any subsequent purchases made at the cryptocurrency exchange office.
Please note that Customer Support is also responsible for verifying your identity. For larger withdrawals exceeding 0.5 btc, we may call you to check your knowledge of how bitcoin works and to ensure that you have entered the correct wallet address in the withdrawal form bitcoin. That's why it's so important to provide the correct phone number so that communication goes smoothly.
What is important, the support only helps in the execution of transactions in the bitcoin exchange office and in servicing the cryptocurrency exchange. Do not ask questions whether it is a good time to invest in bitcoin or is it better to choose ethereum. We are not competent to provide investment advisory services. however, we will know your opinion on this matter.
I have limited funds to buy bitcoins. What can I do?
Buying btc or ethereum with recent savings is definitely not the best idea. If your wallet is empty, invest in yourself first. Our cryptocurrency exchange office will wait for you. However, there is a way to kill two birds with one stone. This way is the EGERA Learn & Earn platform.
EGERA is not only a cryptocurrency exchange (QuickSwap) and a stock exchange. EGERA is also a knowledge zone. In just a few minutes to broaden your horizons, you can earn even over PLN 200.
EGERA is not only a BTC exchange office
The capital group to which our platform belongs does not include the exchange and exchange operator itself. We also own a payment institution dedicated to the needs of the cryptocurrency market, authorized by the Polish Financial Supervision Authority to provide payment services. What does this mean in practice?
Your funds in your bank account are protected by law.
After you make a deposit to our platform account, the funds are still yours - you don't have to trust us because the payment account belongs to you.
From the payment account, you can make transfers not only to your own bank account, but also pay bills or pay for purchases in the store with the EGERA card.
Apart from the payment institution, we also have a VASP license (Virtual Asset Processing License). As in the case of the payment license, we were pioneers throughout Poland and we were one of the first to receive it.
What does this mean in practice? In practice, it means that your bitcoins and Polish zlotys are as safe as physically possible with us. We can assure you that there is no more regulated entity in our country with cryptocurrencies than ours.
Bitcoin exchange and cryptocurrency exchange - main differences
For most bitcoin exchanges, they are the same as cryptocurrency exchanges. This is due to the fact that bitcoin is a cryptocurrency just like ethereum, litecoin or any other. A bitcoin exchange simply sounds simple - although the vast majority of such services allow also purchase other cryptocurrencies.
EGERA is a specific platform. It provides a Quick Swap function that is confusingly similar to a classic bitcoin exchange, but transactions are carried out via offers listed on the exchange. This means that EGERA does not interfere in any way with offers on the market. at the same time, the exchange rate is not guaranteed as in a traditional cryptocurrency exchange.
The Quick Swap cryptocurrency exchange has many advantages. The main one is that you can exchange fiat or bitcoin for other cryptocurrencies even if there is no such market on the EGERA exchange. Importantly, unlike other btc platforms, when making a Quick Swap transaction through several markets, the commission will be charged only once.
What distinguishes a bitcoin exchange from a cryptocurrency exchange?
Both the bitcoin exchange and cryptocurrency exchanges operate on a similar principle. However, this is a deceptive impression. In the case of a btc exchange, the purchase or sale of cryptocurrencies takes place with the exchange operator. In the case of an exchange, with other users of the platform.
Bitcoin exchange is usually easier to use. Its functions are limited to choosing the appropriate payment method and accepting the exchange rate. In this model, you have virtually no influence on how much bitcoin costs and on the course of the transaction itself.
If you want full control, consider buying or selling bitcoin through an exchange. In the case of a cryptocurrency exchange, you can buy bitcoins at a price you choose. This offer is called a Limit order and you will learn more about it here.
create a free account
Create an account on the Egera cryptocurrency exchange and buy your first cryptocurrencies within 5 minutes!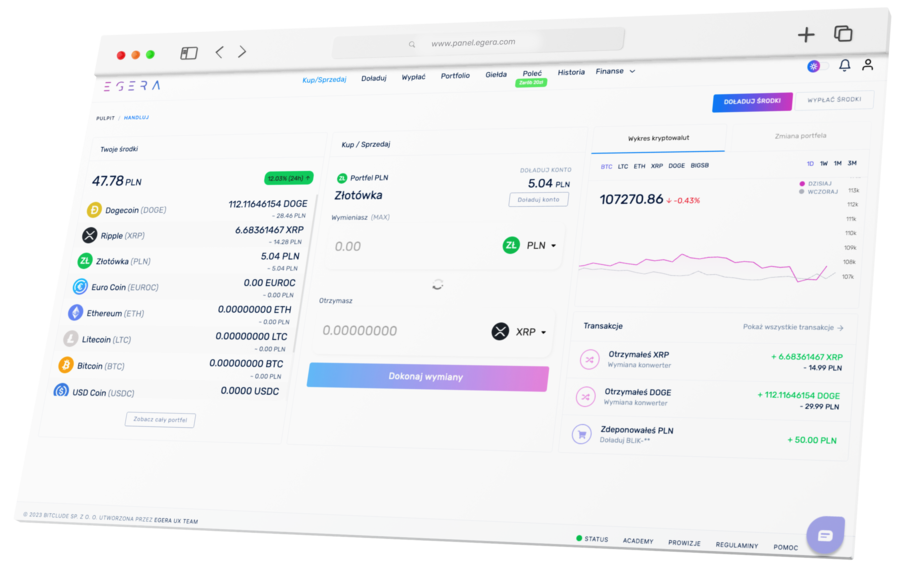 EGERA is the easiest way to get your first bitcoin wallet!
You don't have a bitcoin wallet address yet? In EGERA you can create it in a few seconds. Our platform is not only the fastest way to exchange cryptocurrencies, but also a wallet for bitcoin and other virtual currencies. Moreover, in our application you will find your own payment account, which, thanks to a debit card, can be treated as your primary means of payment for purchases in stores and on the Internet. Of course, if you use virtual wallets such as ApplePay or Google Pay, nothing stands in the way of adding a card to them and conveniently paying by phone.
What distinguishes the Bitcoin exchange EGERA compared to the exchange of cryptocurrencies in a stationary bitcoin exchange?
There are many advantages of EGERA's bitcoin exchange. One of the main ones is undoubtedly time. You can look at it in many dimensions. First of all, you only need a few minutes to execute cryptocurrency exchange transactions in EGERA. Our Platform works all year round, and you can top up your account 24/7 thanks to the Express Elixir online transfer service or blik transaction. Secondly, you will also save time on getting to the exchange office. EGERA is with you always and everywhere. You can perform a number of transactions over lunch, at the university or in your free time.
What is important for many people, our platform also provides a sense of privacy. Your data is processed only to a minimum extent. In a stationary exchange office you will not avoid direct contact with the staff. It may be even more important to you, the more you want protect information about your property status and cryptocurrencies you own, which were created, among others, so that only you know how much you have.We care about the privacy of our clients to such an extent that the vast majority of them have not even had the opportunity to meet us, and their transactions were quick and smooth.
Another distinguishing feature of our platform is the parallel operation of the exchange. The BTC exchange rate can change rapidly. Apart from the time of travel to the stationary exchange office, where it may change, you have little room for negotiation at a traditional exchange point. In EGERA you can always issue a limit purchase offer and wait until the temporary enthusiasm of the market subsides and the exchange rate returns to normal after the correction.While your limit offer can wait on our platform for a year, camping out at a stationary exchange office waiting for the perfect exchange rate may not be the best solution.
An important factor, especially for beginners, is also not having to think about how to create a wallet address before exchanging. Thanks to EGERA, you always have a convenient cryptocurrency wallet at hand, where you can freely store your purchased funds in the form of btc, until in which you decide that selling bitcoins is a good decision.
FAQ - Frequently Asked Questions
Below you will find a list of questions and answers that will definitely dispel your doubts about our bitcoin exchange and other services we offer.
I am underage. Can I buy cryptocurrencies?
Unfortunately not. An obligatory element allowing the User to access EGERA is identity verification. The system accepts only adults, i.e. those who at the time of verification are over 18 years of age.
Bitcoin purchase and the tax office - what are the taxes on bitcoin?
The topic should be broken down into elements. At the outset, it should be noted that in the light of Polish law, bitcoin is a capital source from which profits are subject to taxation. The tax classification of btc and other cryptocurrencies has undergone many changes, so check the current regulations or contact with a trusted tax advisor.
The second aspect that you probably want to pay attention to is information on EGERA's cooperation with tax authorities. EGERA does not submit tax returns or advance payments for its clients and does not provide information to tax authorities on client account balances. Your finances are yours a private matter, and for us privacy is sacred. Your personal data collected during KYC is collected only due to regulations against money laundering and terrorist financing.
Identity verification - why is it mandatory?
Each of our Users, when registering accounts, trusts our services. It comes down not only to the safe exchange of fiat currency for cryptocurrencies, but also to the security of the cryptocurrencies themselves. KYC verification allows us to protect our clients from the suspicions of law enforcement authorities. Bitcoin has the opinion of a currency that can be useful in financing terrorism. We all know that this is not true, but regulations impose obligations on us as the operator. We do not share your data or scans of your ID card or passport with third parties. Your data is hashed, which means they are virtually impossible to decipher.
How long does the bitcoin purchase process take?
As described above, the process of buying cryptocurrencies is not complicated at EGERA. You need to spend about 5 minutes to buy bitcoins. It all depends on how well prepared you are to complete the transaction. If you have a device with a webcam or a smartphone and a photo or scan of an ID document, everything should close in a few minutes, assuming that you deposit funds with one of the quick payment methods.
Where can I store purchased bitcoins?
You can withdraw bitcoins to your own wallet or keep them free of charge on our platform. Bitcoin is an expensive blockchain network. This means that the execution of transactions in btc is unprofitable for small amounts. The same situation is in the case of ethereum. Withdrawing cryptocurrencies also doesn't make sense if you want to sell cryptocurrencies in the near future.
Remember that withdrawing bitcoins and other virtual currencies to a wallet to which you do not have access usually results in their loss. In the case of cryptocurrencies, do not trust anyone and do not withdraw them to the address sent to you by third parties.
Does EGERA support card payments?
Unfortunately not. We do not accept Visa or MasterCard at EGERA. However, we support fast and convenient BLIK transactions and transfers 24/7.
What do purchased bitcoins do?
Bitcoin, like other assets, is mainly exposed to value growth. BTC has amassed millions of users over the years, and its popularity is growing. The increase in demand for bitcoin does not increase with supply, which is limited. It may or may not affect positive for future valuation.
Remember that until the invention of the internal combustion engine, everyone recommended investing in strong and efficient horses. Bitcoin is a revolution of the last dozen or so years, but no one can guarantee that it will last for years.
Is the EGERA cryptocurrency wallet safe?
We make every effort to ensure that your funds are safe. We do this by keeping over 98% of your funds in the so-called cold wallet. This means that most of the time these funds are 100 percent % disconnected from the Internet. This significantly reduces the potential attack vector of criminal groups and allows you to sleep peacefully.
But keep in mind that btc was not created to make you trust anyone. A secure wallet is one where only you have the private key. However, if you only want to be exposed to bitcoin's growth and you don't plan to store bitcoin for years , the EGERA cryptocurrency wallet should be enough for you.
Can I sell other cryptocurrencies at EGERA bitcoin exchange?
Like other cryptocurrency exchanges, you can freely buy and sell various cryptocurrencies on our platform. The most popular digital currencies listed on our website include btc, ethereum, litecoin, XRP, dogecoin and many others.
Does the EGERA cryptocurrency exchange support transactions based on the blockchain binance coin?
No. In the EGERA bitcoin exchange you will not find blockchains of competing companies. The native blockchain for tokens and smart contracts is Ethereum. Transactions carried out using Binance coin will not be booked automatically.
In case of your mistake, for transactions exceeding $100, your funds from chains other than ethereum can be recovered and booked. However, the posting process takes much longer and is carried out en masse, for all wrong transactions on average once a quarter.
Does EGERA support stable coins based on the fiat exchange rate, such as tether usdt?
There are many stable coins. They have been used to handle most cryptocurrency transactions for years. One of the most popular is USDT tether. Unfortunately, many myths and understatements have grown up around this virtual currency over the years, which may suggest that it is not fully covered in dollars. Therefore, in the EGERA cryptocurrency exchange, we support transactions using USDC and EURC. These stable coins are issued by Circle, which is an electronic money institution and has all the necessary audits. Importantly, apart from USDT tether, we also do not support Binance USD. Transactions using stable coins are carried out only and exclusively via ERC-20 on the main Ethereum chain.
Can I buy bitcoins at EGERA only through an online currency exchange?
The EGERA cryptocurrency exchange is not only an online cryptocurrency exchange, but also a growing network of stationary points throughout Poland. Every month we put at your disposal more and more bitomats. The map and more information can be found at ATM EGERA.
Does the EGERA bitcoin exchange allow occasional transactions?
EGERA, like other cryptocurrency exchange offices and virtually every cryptocurrency exchange that supports fiat currencies, requires identity verification. We assume that it is better to pass KYC verification before buying BTC. We could technically allow the possibility of trading bitcoin with other cryptocurrencies, but as the largest platform that supports zlotys, we would have to verify our clients at some stage. It would be even more bizarre if you bought bitcoins for a thousand zlotys, and after the increase in the rate you could not sell them without verification. In the case of our platform, you can be sure that after verification you will be able to create a btc wallet address and the ability to choose the appropriate payment method for bitcoins.