Bitcoin wallet - which one to choose? A compendium of knowledge about bitcoin wallets.
You probably already know, How to buy bitcoin? and alternative cryptocurrencies - altcoins. The next step in your adventure with cryptocurrencies is to answer the question - where should you actually keep them? There are many possibilities, but most people keep their cryptocurrencies on exchanges anyway. What are the alternatives to holding cryptocurrencies? Well... There are online and offline, physical and virtual wallets - in this article you will learn the pros and cons of each solution. Which bitcoin wallet to choose?
How does a bitcoin wallet work?
Something that may completely surprise you is that you won't find any Bitcoins in the wallet. They only serve as an intermediary between the user and the Blockchain network, and store information about the assets, indicating their location on the blockchain.
A cryptocurrency wallet actually contains:
Address,
Public key,
Private key.
The private key is a randomly generated alphanumeric string. It is completely unique and impossible to guess, even for the best supercomputer. The key is the signature that authorises every transaction, keeping it safe is the priority of every Bitcoin holder.
The public key is an alphanumeric string generated from the private key. It is 256 bits long. In theory, by reverse engineering the private key from the public key, it would be possible to steal cryptocurrencies from users' wallets, but even the best supercomputers don't have that kind of computing power.
The address is a public key processed by complex operations of which the SHA-256 algorithm is a part. Its final length is 160 bits. It is to this address that fund transfers can be made - just like bank transfers.
Cold and hot bitcoin wallets - what temperature is ideal for cryptocurrencies?
Despite the confusing naming, Hot Wallet and Cold Wallet are not at all different in temperature. They are two different ways to store cryptocurrencies. Hot wallets are a type of digital wallet, often with a direct connection to the network - online.
Cold Wallet is a type of hardware wallet - often looking like a flash drive. On many cryptocurrency-related forums, there is a fierce debate about which bitcoin wallet is best - for some, security is key, for others, speed and usability.
What characterises Cold Hardware Wallets?
Let's start with hardware wallets, or Cold Wallets. Some of the most popular representatives of this type are such solutions as Ledger Nano S or Trezor One. Hardware wallets are characterised by a high level of security. Let's discuss all the advantages and disadvantages of this solution.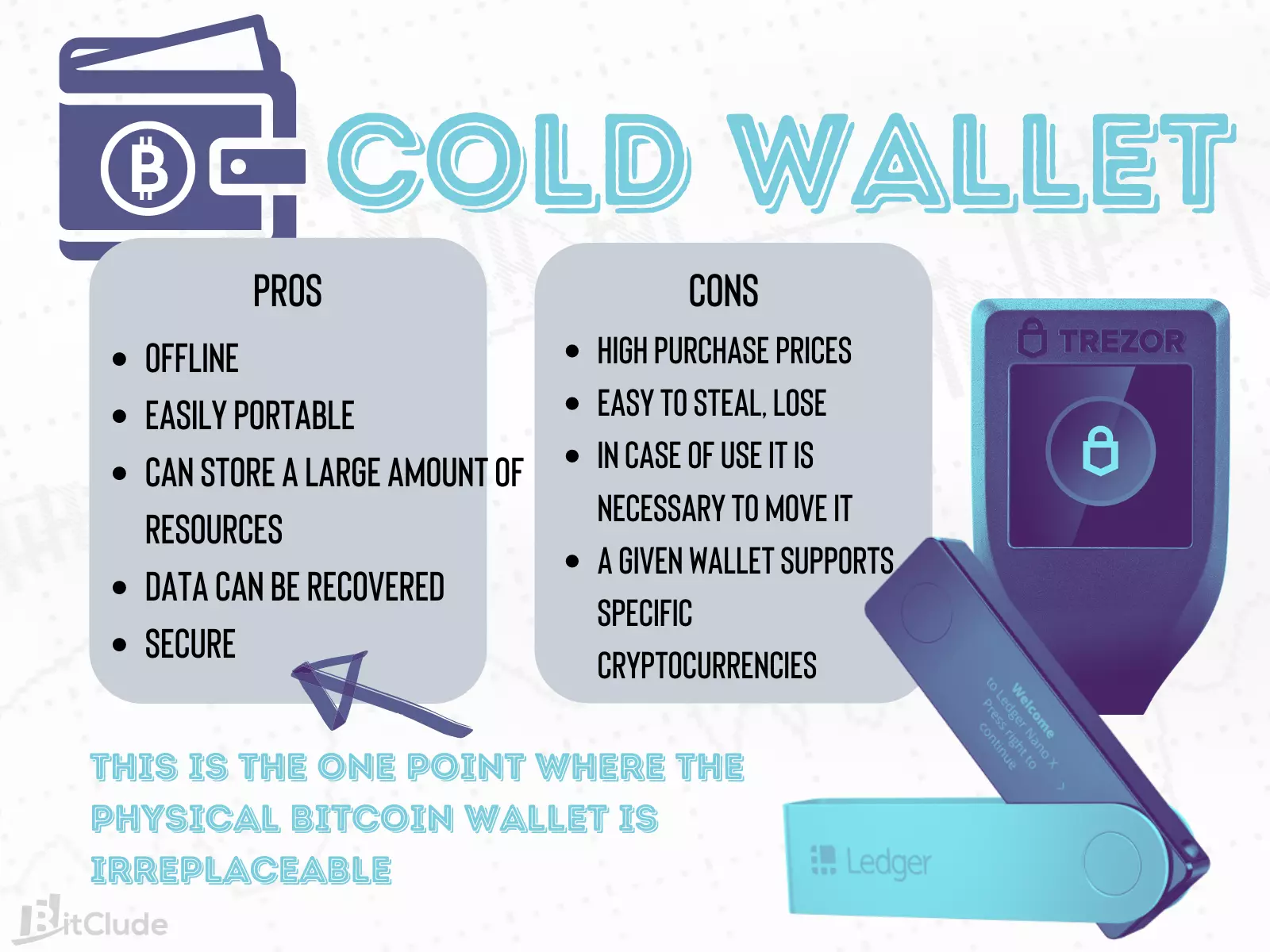 Pros:
All cryptocurrency data is stored on a physical device that is disconnected from the network (offline)
Hardware wallets such as the aforementioned devices from Trezor or Ledger are small and easily carried discreetly.
Physical wallets are the safest way to store cryptocurrency data - your bitcoin and cryptocurrencies will never be at risk.
The hardware wallet enables the storage of a large amount of data on various measures.
In the event of loss, hardware wallets make it possible to recover funds. Usually by means of a specially generated sequence, the so-called seed.
Cons:
The hardware wallet is expensive, with prices starting at £50 or about £260, for beginners (planning smaller investments), the price can be an effective barrier - but when it comes to larger assets - it's better to be safe.
If inattentive, this type of Bitcoin Wallet can be stolen or lost.
The Achilles heel of hardware portfolios is the need to move them around if we know we will use them.
Hardware wallets support specific cryptocurrencies. For example, the Ledger Nano X supports up to (for some users only) more than 1,000 different cryptocurrencies - it's better to check which currencies are supported before buying.
Both Trezor and Ledger work perfectly as Bitcoin wallets. Before choosing, it is worth checking what other currencies the devices support. A huge advantage of both is the ability to monitor and transfer funds.
| Wallet | Trezor T | Ledger Nano X |
| --- | --- | --- |
| Price | $ 159 | $ 119 |
| Display | Yes - Large | Yes - Small |
| Compatibility with Mycelium | Yes | Yes |
| Compatibility with Electrum | Yes | Yes |
| Material | Plastic | Metal |
But the biggest advantage of cold wallets needs to be particularly highlighted.
Security
When it comes to securely storing cryptocurrencies (or, being more accurate, cryptocurrency information), a cryptocurrency hot wallet doesn't stand a chance in comparison. Every hot wallet stores the data that allows access to the wallet, such as the private key, on servers or needs a constant connection to the network. Most of these wallets are perfectly secure, of course, but what if the data leaks or someone decides to play hacker?
Losing access to your Bitcoin wallet is just the first step, the next step is for users to lose their wallet funds. Attempted attacks are heard of all over the world. With Blockchain technology, unfortunately, there is no way to undo transactions - stolen funds disappear forever. Irretrievably.
This is the one place where a physical Bitcoin wallet is irreplaceable.
Cold wallet is a promise that the bitcoin and cryptocurrencies held by users are optimally protected. Trezor One, Trezor T, Ledger Nano S or Ledger Nano X deliver on this promise.
Using hardware wallets is a piece of cake. Manufacturers have taken care of users by creating solutions that are as pleasant to use as possible. Depending on the device and configuration, it is usually enough to connect the device to the computer and enter the password - the magic happens by itself - modern Bitcoin wallets will not disappoint anyone.
An alternative to an expensive bitcoin wallet - a piece of paper.
When it comes to convenience of use, hardware wallets or even hot Bitcoin wallets, completely outclass pieces of paper. However, in terms of security, a properly created paper cryptocurrency wallet, with its level of security can shock even users of devices from the stable of Trezor or Ledger.
How do you create a paper Bitcoin wallet? It's trivially easy, just generate your private and public keys, then print them out on a piece of paper. For ultimate security, it's worth downloading a dedicated app to help you go through the whole process offline.
You can think of a cold wallet as a safe in which you keep cryptocurrencies but have no intention of using them. Although unlike conventional cold wallets, a piece of paper is completely unusable. You can't split the funds that are on it, unfortunately.
If you have 2 BTC and you want to transfer only part of the funds, you first have to transfer all the coins to another wallet to divide the funds on it and transfer the corresponding part further. This means a lot of small operations that can cause a lot of trouble.
So if you plan to use cryptocurrencies as a means of payment, you may want to consider other types of wallets. As an alternative to cold safes, there are hot wallets - always online, constantly ready to transfer funds.
Hot wallets. Convenient, fast, but safe?
Hot wallets have one unusual feature - you have to be especially careful not to burn yourself. This type of wallet is particularly convenient. Unfortunately, its biggest advantage, to which we owe the convenience - constant connection to the network, is at the same time the biggest disadvantage. The constant connection to the network means constant vulnerability to attacks that aim to deprive the user of cryptocurrencies.
What advantages and disadvantages characterise hot wallets?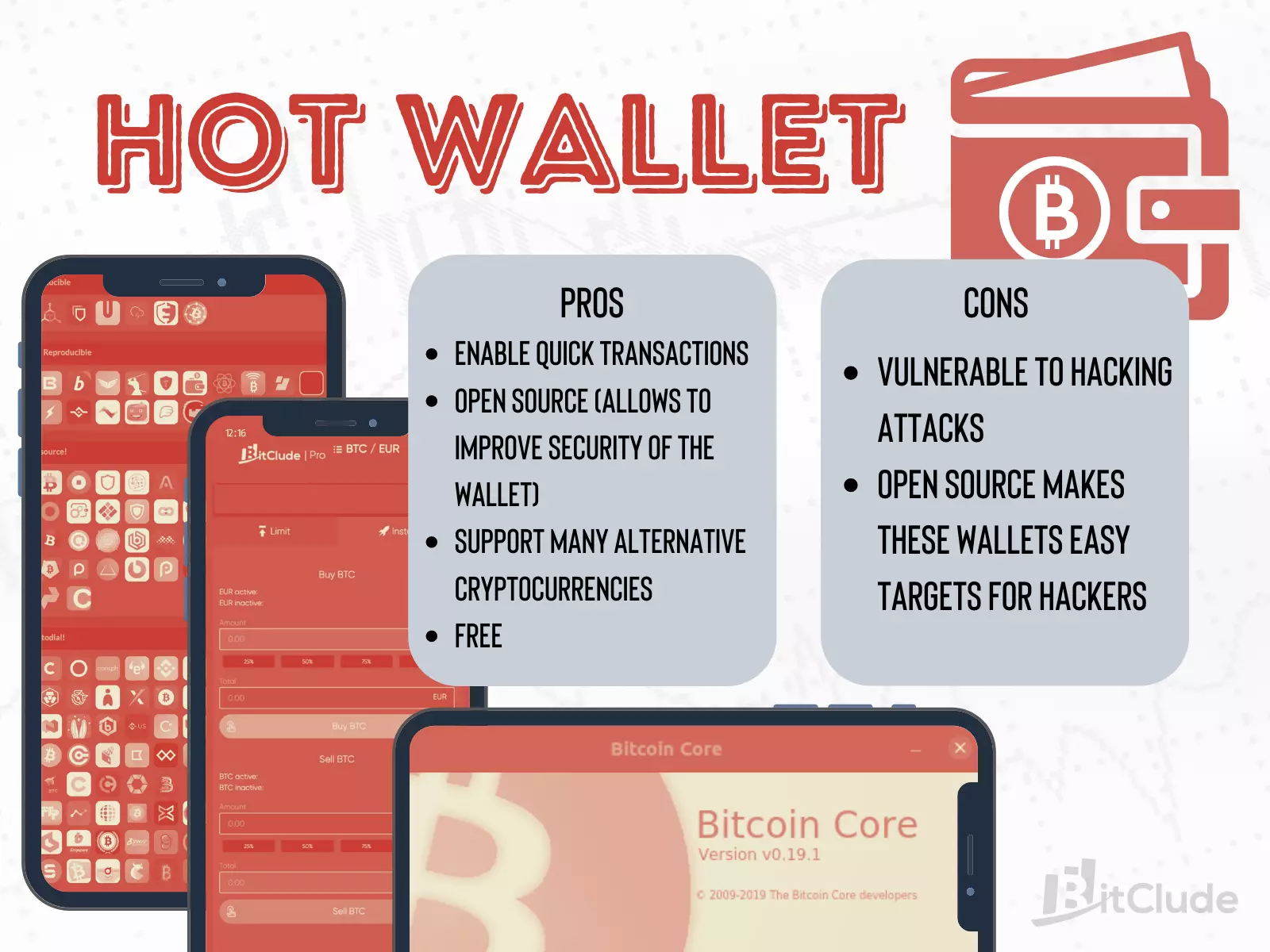 Pros:
Mobile cryptocurrency wallets, unlike hardware cold wallets, enable fast transactions.
Many hot wallets are open source, so you can verify the security level of your wallet. Making the code public allows the community to report bugs and continually improve the wallet.
They support many alternative cryptocurrencies, often even ones no one has heard of, cold hardware wallets unfortunately cannot boast such a feature.
One of the major advantages, is that hot wallets (for the most part) are free.
Cons:
Hot wallets are always connected to the internet, making them particularly vulnerable to hacking attacks and server technical interruptions. When it comes to security, hardware wallets are second to none.
A bitcoin wallet that makes its source code available - open source - can at the same time be particularly vulnerable to hacking attacks. It all depends on the quality of the code produced.
Which bitcoin wallet to choose?
The answer to such a question must be - it depends. A hardware wallet is not a must have for a beginner cryptocurrency holder. At the very beginning, buying a Ledger Nano X or Trezor T can be a huge expense that few can afford. If you are going to keep your funds online, it is essential to diversify them - you will keep potential losses to a minimum.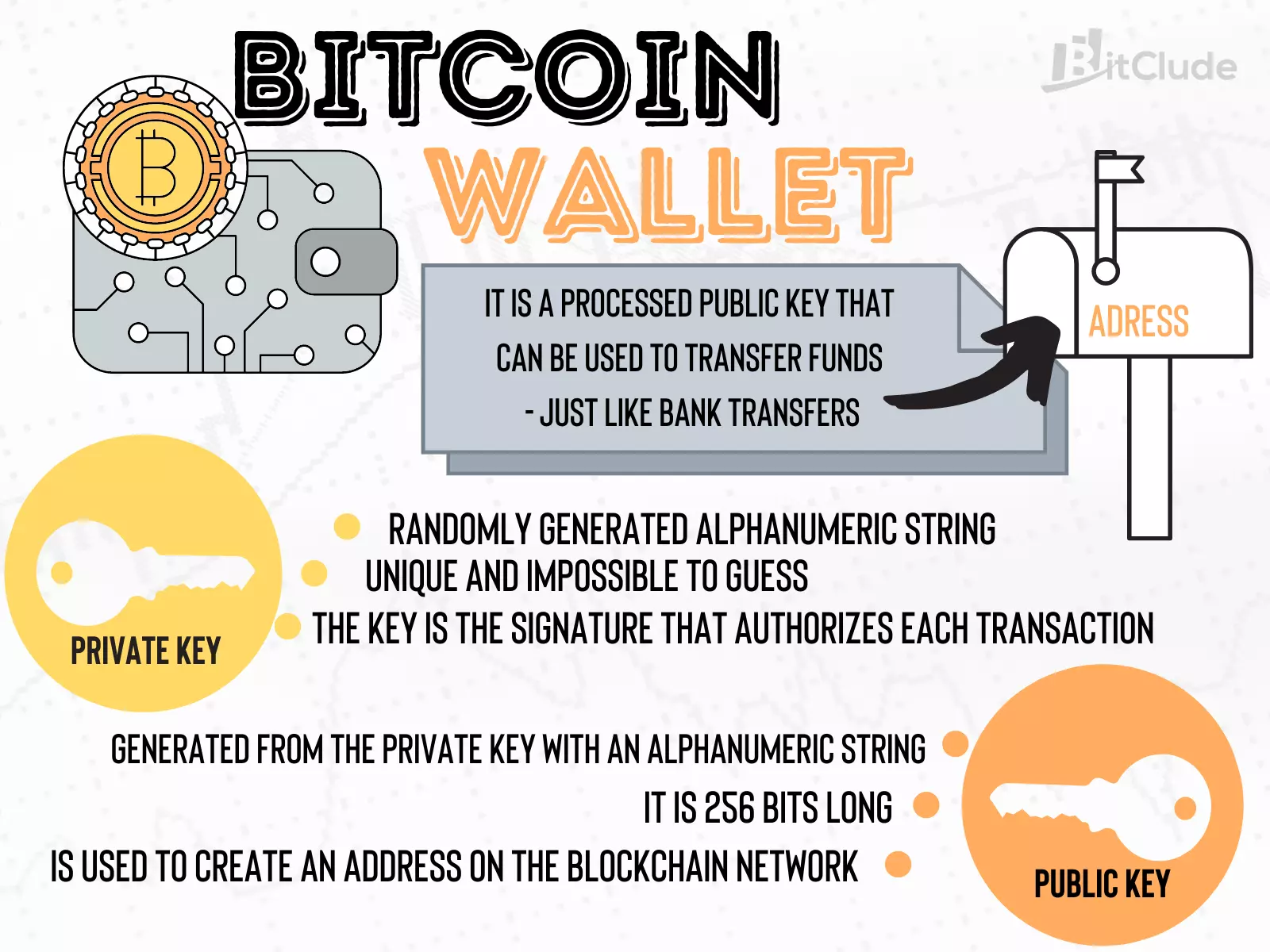 Bitcoin wallet on the exchange
Many stock market investors, but also ordinary people - keep their funds in the stock market - ready for quick buying and selling actions. If you join this group, take care of security. Set up two-step login verification, validate logins from a new IP address - anything you can.
Security has no price. Transactions in Bitcoin are anonymous and irreversible, keep this in mind when securing your account logins.
A desktop bitcoin wallet?
A popular solution is a bitcoin wallet in the form of an app for your computer. Apps are usually easy to download and install. Desktop wallets are divided into Light and full wallets. What makes them different?
Light wallets - boast fast performance and low resource intensity. The blockchain (blockchain) is stored on external servers that wallets can access.
Full wallets - we recommend this type of cryptocurrency wallets to more advanced users. Full wallets download the entire blockchain to the computer, which requires more disk resources and forces the user to synchronise, which takes a longer time.
Examples of full desktop portfolios:
Mobile Bitcoin Portfolios
This is another representative of hot wallets. They come in the form of applications for mobile devices - tablet, smartphone or android fridge (if you happen to have a removal team on hand).
Mobile wallets have a medium level of security, but in return you get instant transactions, for example by scanning a QR code.
Cryptocurrency wallets in the form of a mobile app unfortunately do not encourage people to keep larger amounts of cryptocurrencies on them.
Examples of mobile wallets:
Browser-based cryptocurrency wallets
These types of wallets feature the easiest form of access. You don't need to install an app on your mobile device, fridge or computer - your wallet is always available in the cloud.
No doubt, this solution is the most convenient and easy to use, but is it secure? In this case, the user usually does not have access to the private keys, which means a high vulnerability to losing control of the funds.
As with exchanges, this type of solution should primarily be of interest to those planning to trade cryptocurrencies or those intending to hold very small amounts. Due to the lack of private keys, browser wallets offer a rather low level of security.
Examples of browser-based portfolios:
Hardware wallet
This is undoubtedly the most expensive option available, but also one of the safest. It is certainly not the best choice for a beginner, who will potentially spend more on the wallet than on the cryptocurrencies themselves. Every outgoing transfer from this type of device, can be secured with an additional pin code. The biggest advantage of this solution?
These are highly specialised devices, with dedicated software to provide cryptocurrencies with the maximum level of security.
Example of hardware wallets:
Ledger Nano S,
Trezor Model T,
Ledger Nano X,
Trezor One.
How to maintain security?
Lost bitcoins you cannot get back, the world of cryptocurrencies is ruthless. If you decide to buy cryptocurrencies on an exchange, remember to follow basic safety rules.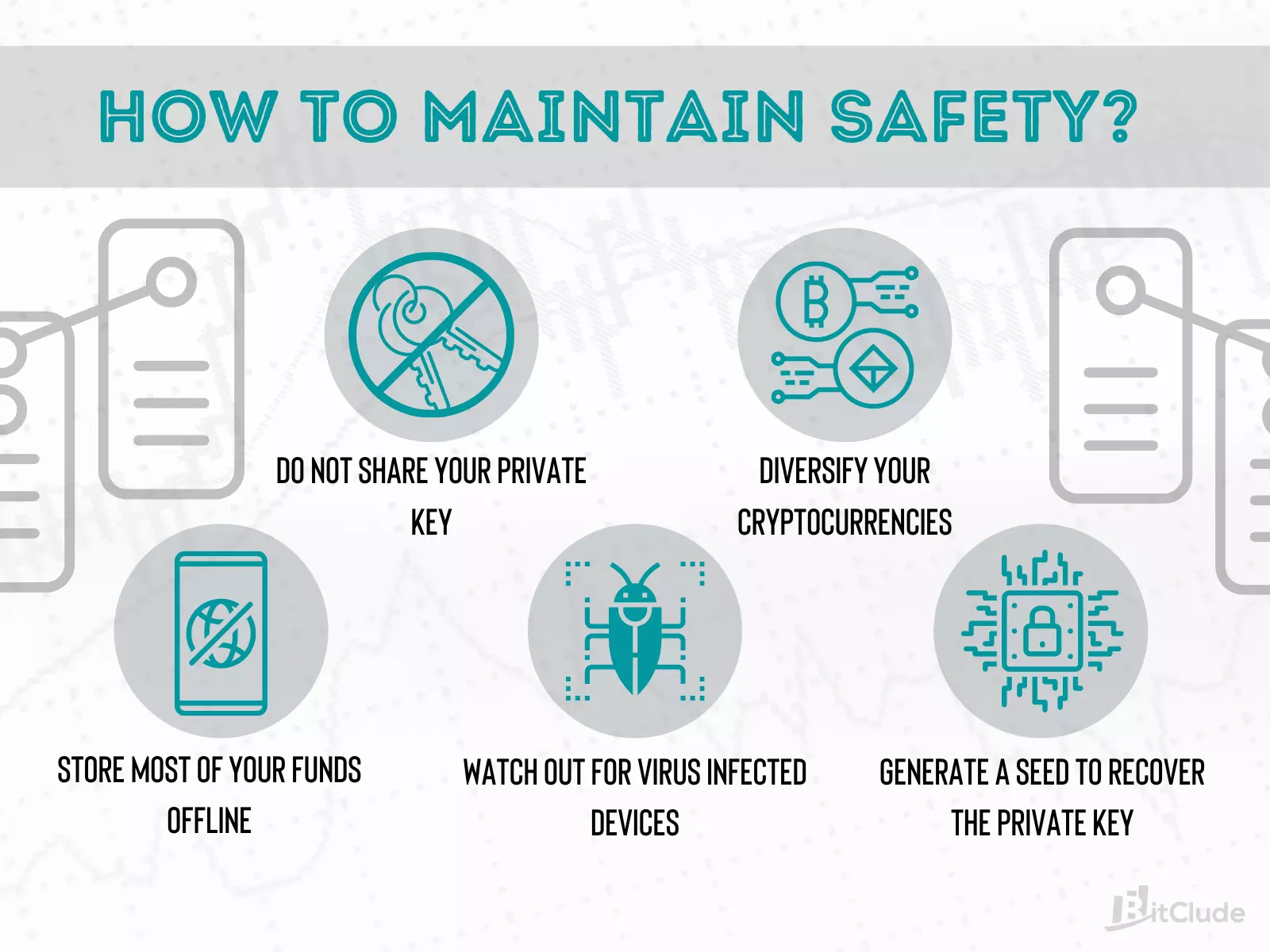 Never share your private key, losing control of your wallet means losing your funds irretrievably.
Diversify your cryptocurrencies, don't keep them all in one wallet. This will minimise the risk of losing all your funds.
Where possible, we recommend generating a seed to recover the private key. This is made possible by various companies in their proprietary wallets.
Most funds are better stored offline.
If you use mobile or desktop Bitcoin wallets, be on the lookout for viruses infecting your devices - many are capable of swapping the addresses of the wallets you make payments to.
Summary:
Cryptocurrency wallets are an integral part of Blockchain technology, a silent messenger through which we can easily make payments. In the case of Bitcoin and alternative cryptocurrencies, special care is needed.
In the same way that you don't share your bank account details, defend your private address - security on the Blockchain network is as high as users keep it.
In the whole network, it is the human being who is unfortunately the weakest link.
In 2017, when Bitcoin first climbed to an incredible price ceiling, not everyone was opening the champagne. The media quickly picked up on the many unfortunates who lost access to their wallets, resulting in them missing out on the opportunity to enjoy their wealth.
How did this happen?
The most common motive was to replace the computer with a new one or to lose the disks on which desktop cryptocurrency wallets were stored. The unwitting protagonists of these stories offered exorbitant sums of money to find the disks, while digging through landfills in search of digital gold.
Lost Bitcoins are not urban legends. There are actually many of them. Some estimate that through such and similar incidents, we have lost access to up to 40% of Bitcoin.
Spectrum bitcoins.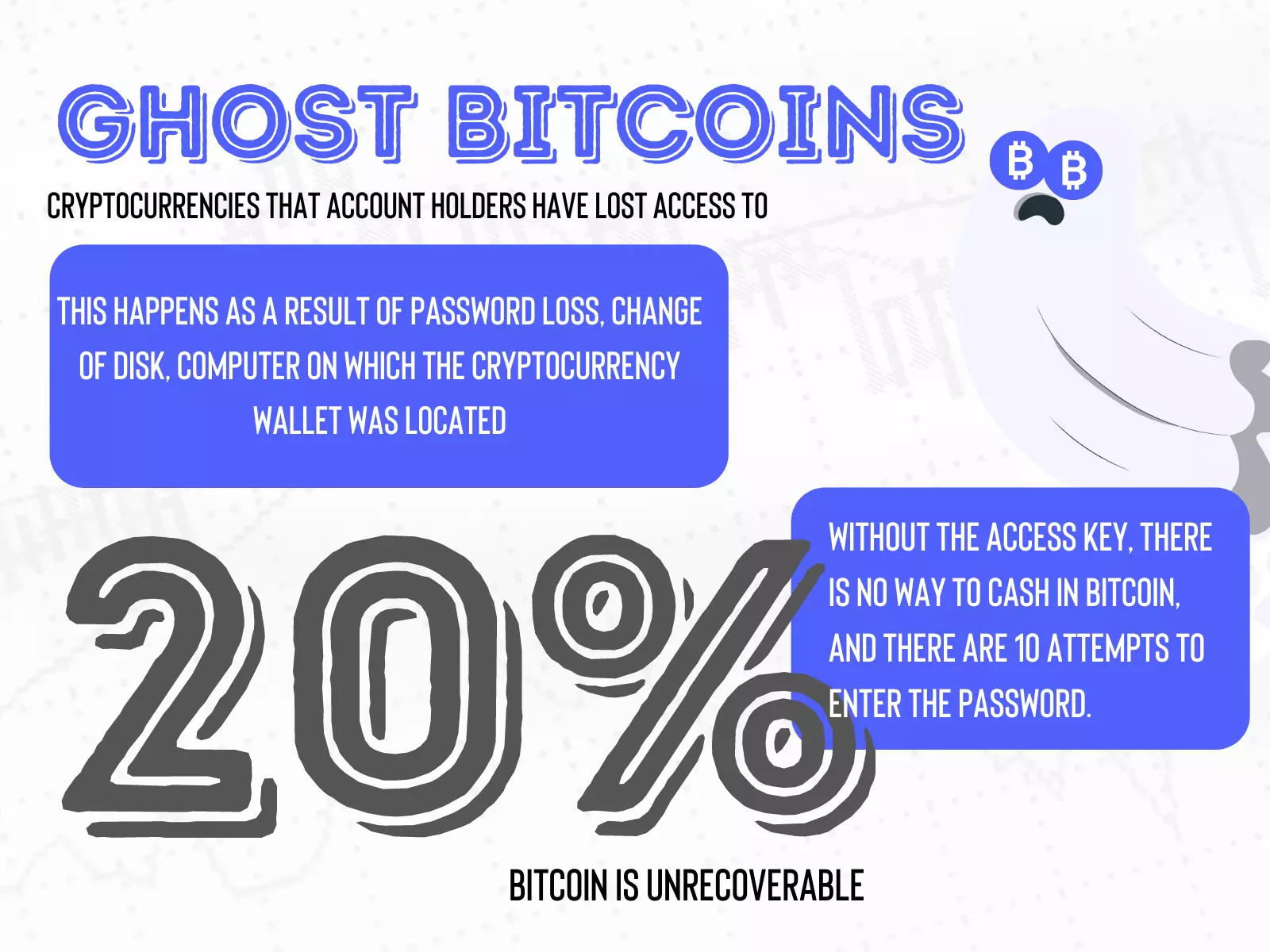 It's hard to estimate exactly how many Bitcoins have gone out of circulation forever, but regardless of the data - let this story serve as a warning.
Keep your cryptocurrencies safe!