The high price of cryptocurrencies such as Bitcoin or Ethereum no longer surprises anyone, but Dogecoin with a capitalisation higher than BMW, Dell and Nintendo completely surprised all investors. The cryptocurrency, which does not carry any technological, payment or savings value, has reached a capitalisation of $80 Billion. How did this happen? How and where to buy Dogecoin? We will answer all the questions in the article!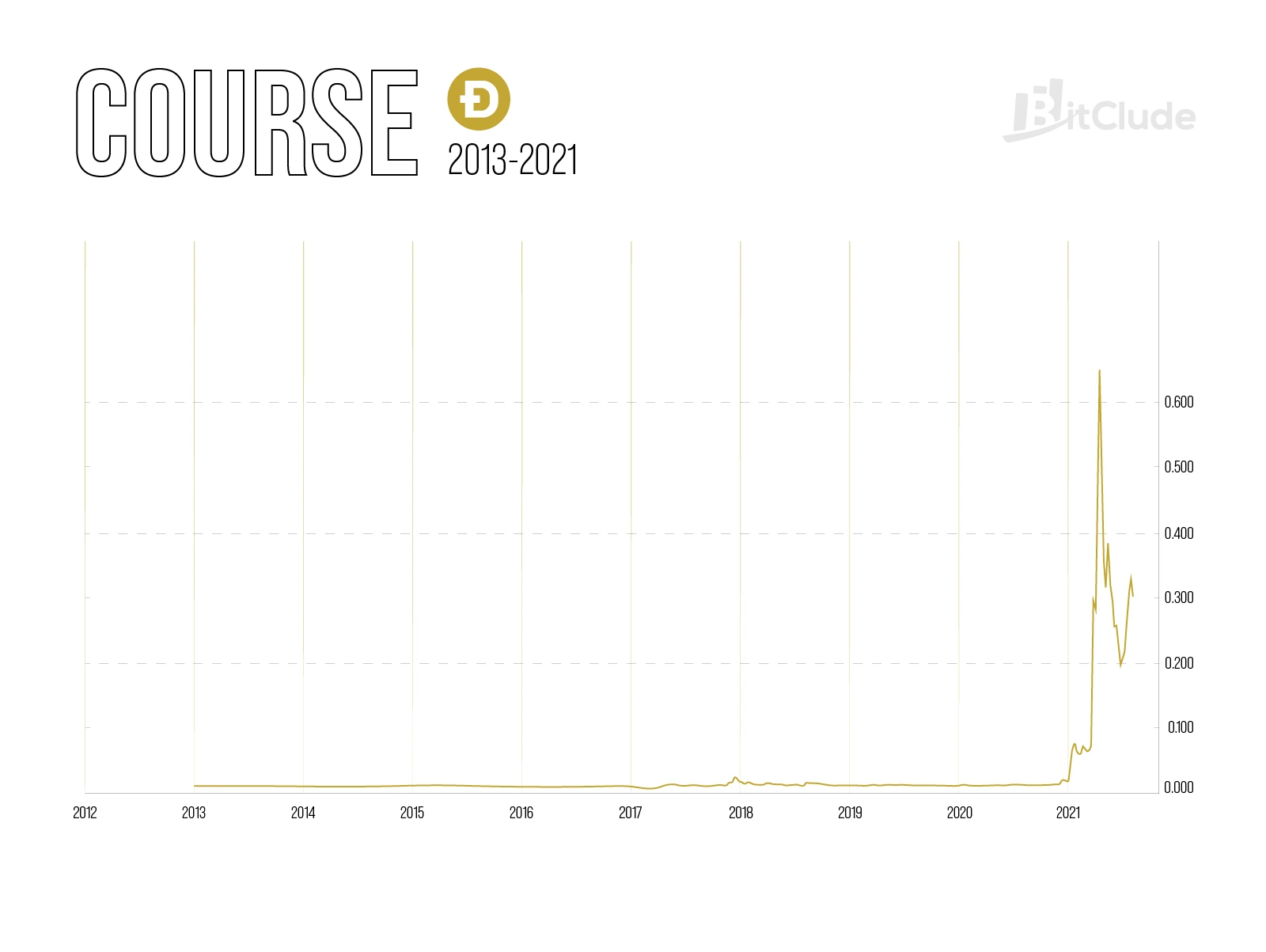 Dogecoin - how do I get started?
Dogecoin was until recently a very extravagant cryptocurrency. Worshipped in a large but closed circle of Twitter, Reddit or 4chan users. In 2021 Dogecoin (DOGE) broke out of its low capitalization and its exchange rate skyrocketed. In Poland, DOGE was for a very long time associated with an asset with low attractiveness, which is why it was not listed by local cryptocurrency platforms.
Seeing the interest from investors, we decided to make DOGE available to you, so you can sell and buy DOGE using the platform loved by 20,000 users - Egera.
What is Dogecoin (DOGE)?
Dogecoin is a satirical cryptocurrency that was based on the internet meme Doge, which is often referred to as dogecoin. The cryptocurrency that drew on the meme became a meme itself, but funnily enough - despite its completely satirical, even meme-like image, the cryptocurrency's valuation skyrocketed.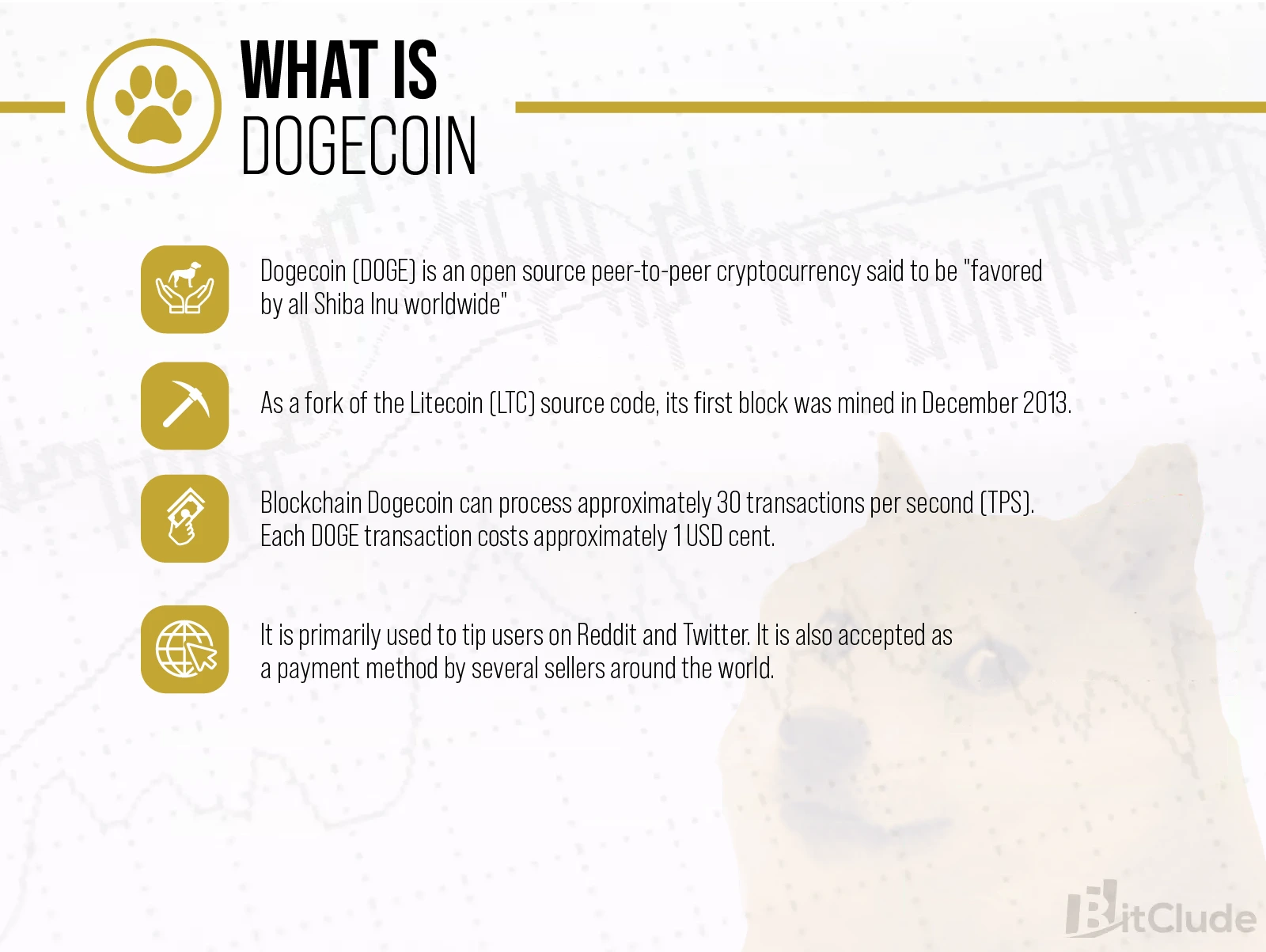 DOGE's main application is a tipping system on the Reddit and Twitter platforms. Tips are submitted via dedicated Bots that, when tagged, process the transaction from the user's balance.
Dogecoin was created based on Litecoin, it is operated by the same Scrypt algorithm. DOGE has no set upper supply limit, so there is no deflationary pressure and inflation occurs naturally. The creation time per block is approximately one minute.
A very interesting community has formed around Dogecoin, which is very active and has successfully carried out many Dogecoin collections for interesting causes - charity, but also supporting athletes and wrapping cars in Dogecoins during races.
Why is Dogecoin so popular?
Despite the satirical environment created around this cryptocurrency, many investors believe that Dogecoin can be a sound investment asset. Doge is portrayed as fun and friendly, so the cryptocurrency is treated in the same way, as a friendly investment asset.
Such an image definitely favours Dogecoin and helps it gain more supporters. Particularly groundbreaking in building its image was Elon Musk, who often mentioned his favourite cryptocurrency via Twitter. Just one tweet, containing the words One Word: DOGE, contributed to a 20% increase in the price of the cryptocurrency. One of Elon's tweets caused a 100% increase in the cryptocurrency in just a dozen hours - simply publishing a picture of Doge Barking at the Moon.
According to some, Elon Musk's tweets could be seen as market manipulation, but it cannot be conclusively said that the tweets influenced price movements.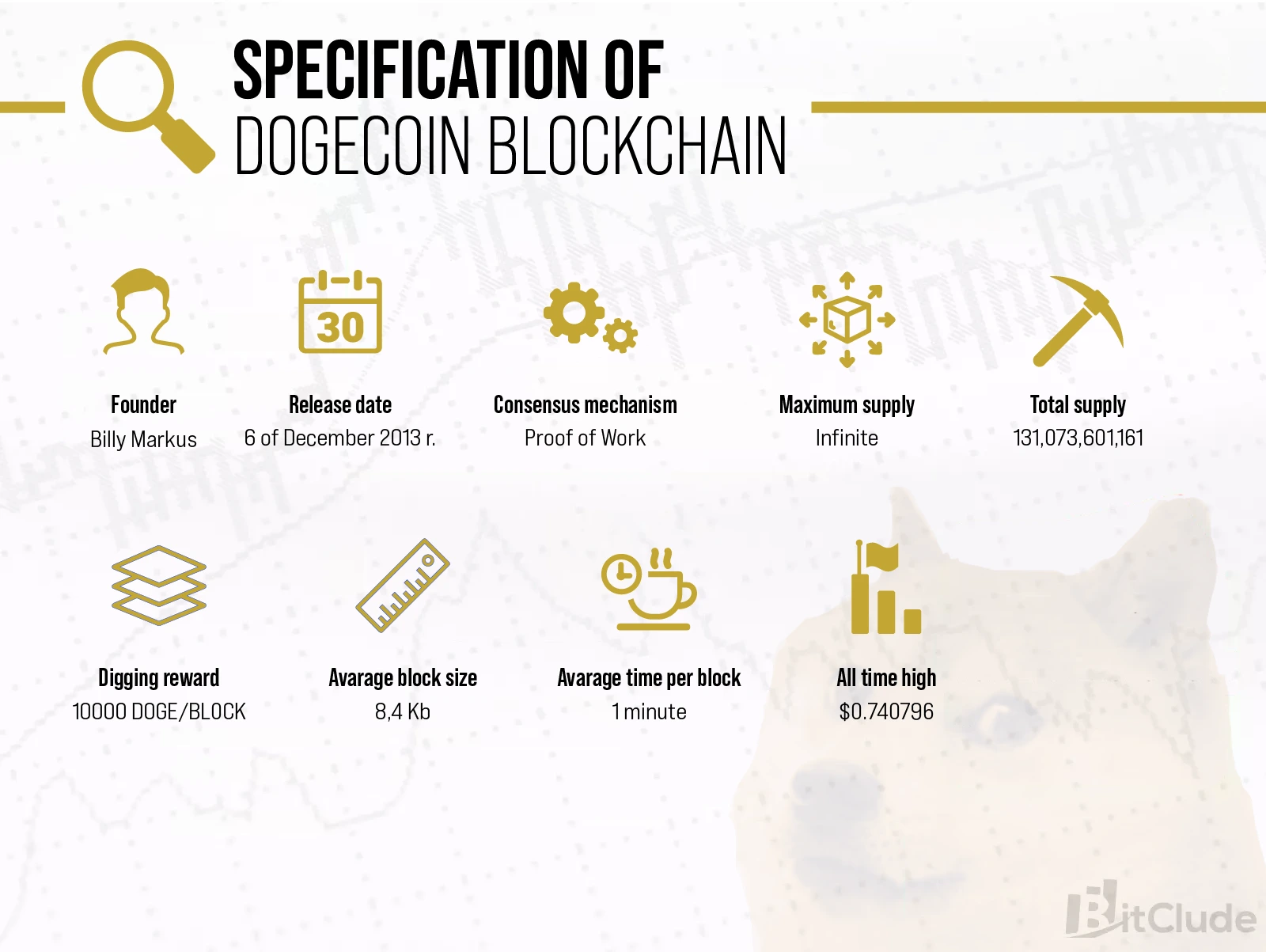 How and where to buy Dogecoin (DOGE)?
Until recently you couldn't buy Dogecoin (DOGE) on many European cryptocurrency platforms, but this year a lot has changed and more and more platforms are listing the currency on their exchanges and swappers. Despite the growing number of platforms offering Dogecoin, choose well and bet on Egera.
You can purchase DOGE at the Egera exchange
Doge exchange on Egera is by far the easiest and fastest way to buy Dogecoin. Simply deposit funds via bank transfer, debit card or Blik code and you can buy Dogecoin.
The most frequently asked questions concern identity verification before using a cryptocurrency exchange.
Do you need to verify yourself before buying cryptocurrencies?
It used to be that cryptocurrency exchanges did not require identity verification, but current legislation requires users to verify their identity. The process is required by the Anti-Money Laundering and Countering the Financing of Terrorism Act of 1 March 2018.
You can buy Dogecoin on a cryptocurrency exchange
When buying DOGE on the exchange, you need a basic understanding of the cryptocurrency exchange market, having achieved this, you can easily handle the conversion of traditional currency into cryptocurrencies. The exchange allows you to set the price you want to sell or buy cryptocurrency for yourself.
Moreover, on the stock exchange you will find many useful tools that will significantly increase your psychological comfort while investing, and help you limit your losses if the price collapses in your absence.
Cryptocurrency exchanges versus cryptocurrency exchanges - the differences
At a cryptocurrency exchange, you can buy Dogecoin at a price set by the exchange operator. This is a fixed price, variable depending on the cryptocurrency exchange rate. The cryptocurrency exchange allows you to choose your own price - in line with your chosen investment strategy. Another feature for which many experienced users choose to use a cryptocurrency exchange is lower commissions for exchanging funds than in an exchange office.
The main difference between a currency exchange and a stock exchange is the speed of the transaction. Kantor allows you to exchange money with just a few clicks, in a matter of seconds. On an exchange you will place an order in the same time, but the difference is that on an exchange another user has to meet your offer - only then will the exchange transaction take place.
What better choice to purchase Doge?
If you are still a beginner trader, you will fall in love with the instant swap present in the Egera exchange. As you gain experience, you will definitely want to start your adventure on a cryptocurrency exchange.
Is there any other way to buy Dogecoin (DOGE)?
As an alternative to institutions regulated by law, there are private individuals from whom you can buy Doge without any security or certainty of completing the transaction. In buying from other users you are not protected, so buy cryptocurrencies in a safe place - buy Dogecoin on Egera!
Dogecoin storage wallet
Safe storage of cryptocurrencies is one of the main rules of any investor. In the crypto world, there is a guiding principle that says everyone is their own bank. In addition to the benefits this brings - making transactions yourself, not being able to undo or block them, and anonymity - it also means responsibility.
Self-management of funds means that they are at the level of security that the user sets. A high level of security can be achieved by protecting the data used to operate the wallet, but also by depositing the funds in a secure wallet.
Cold and hot Dogecoin wallets
The basic category of wallets divides them according to their connection to the network. Those wallets that maintain a constant connection are called hot wallets, while those that are mostly offline and their connection is purely optional are called cold wallets.
There are legends about cold wallets. They are considered the safest way to store cryptocurrencies. Most often they are network disconnected, in their case connecting requires a physical action by the user - connecting them to a computer, laptop or pairing them with a phone.
The appearance of cold wallets is reminiscent of a memory stick, but unlike a simple data storage device, they have specialised software to protect the data and enable the transfer of funds.
Hot cryptocurrency wallets are constantly connected to the network, which makes them more vulnerable to attacks than cold cryptocurrency wallets that are online occasionally. A hot wallet can be a cryptocurrency exchange or bureau, but also dedicated mobile, desktop and web applications, i.e. those accessible from a browser.
Lightweight and full Dogecoin wallets
This division is more detailed and is usually used by more advanced cryptocurrency investors. It divides wallets based on the synchronisation of blocks in the memory of the device on which the cryptocurrency wallet resides.
Full wallets synchronise all the blocks in a cryptocurrency network. Depending on the cryptocurrency and its age, the blockchain size can be as large as 400 GB! In the case of Dogecoin it is only 55 GB, but on most personal computers this size is impressive. Full wallets need to constantly synchronise blocks, so they require a constant connection to the network - 24/7 - to work properly.
Lightweight cryptocurrency wallets don't have the need to sync blocks, as they use information that resides on the server. Light wallets are the most common type of wallet and are used by 99% of the crypto community. Full wallets are only used by developers, cryptocurrency exchanges and miners to confirm transactions and mine blocks.
Alternative methods of acquiring Dogecoin
An alternative to buying Dogecoin from a cryptocurrency exchange or bureau is to mine Doge and get it in the form of a tip from users on Reddit, Twitter or any other site that offers tips in this form.
Cryptocurrency taps
Cryptocurrency faucets are platforms that offer cryptocurrencies, often including DOGE, for solving simple tasks like solving a captcha, linking a faucet account to personal social media, solving surveys or sharing and inviting friends to the platform.
By maintaining the basics of cyber security, you will avoid the unpleasantness of sensitive data leaks or the loss of funds held on tap.
Cryptocurrency mining
It may seem that cryptocurrency digging is a lucrative activity only during a cryptocurrency price spike. The truth is not quite so - when the price of a cryptocurrency drops or the difficulty of mining it increases, miners change the asset they are digging for a more profitable one. When miners go off the grid of a particular cryptocurrency, the difficulty of mining it decreases, and then the profitability of mining the cryptocurrency increases again.
The profitability of cryptocurrency mining is a self-regulating mechanism. And how to start digging Dogecoin? Thanks to Doge being based on the same algorithm as Litecoin - Scrypt - mining does not require advanced ASICs, which are necessary to mine BTC based on the complicated SHA-256 algorithm.
To start digging cryptocurrencies at a profitable level, you need to invest a large amount. The biggest cost is cryptocurrency miners, which are usually built with graphics cards. Check out the profitability of mining and a complete compedium of cryptocurrency mining knowledge that can be found here.
Twitter and Reddit
There is no official Dogecoin integration with Reddit and Twitter yet, but thanks to users and the extensive Doge community, tipping in this cryptocurrency is possible. Users of these platforms have created bots to send tips to another user with simple commands.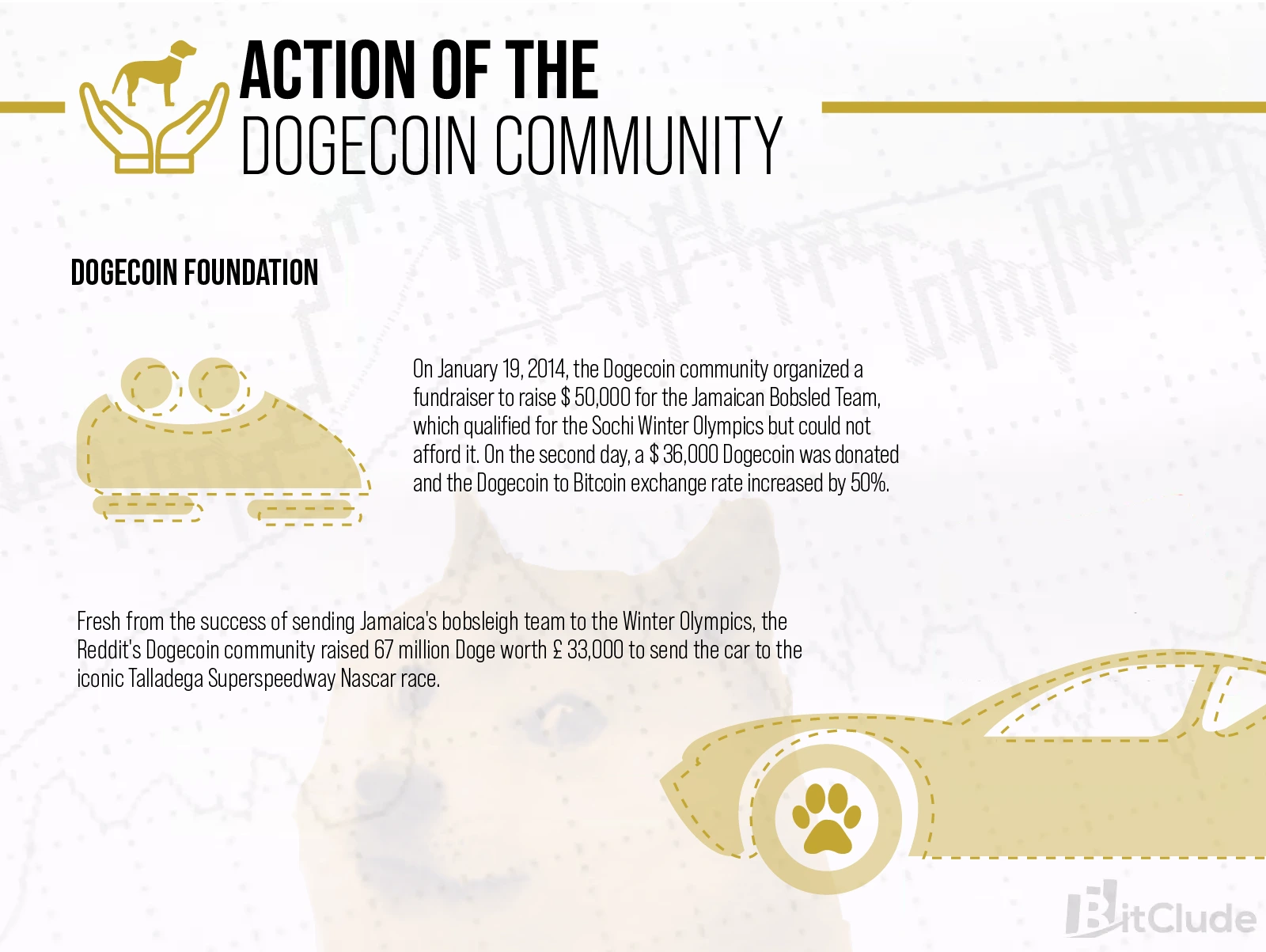 What else to look out for when buying Dogecoin?
Remember that CFDs are not a substitute for real trading in cryptocurrencies. If you can buy Doge for EUR, USD, GBP or PLN, why open an account on platforms that only offer CFDs?
Before you buy Dogecoin carefully plan your investment strategy - how much do you want to earn from your investment, and how much can you lose? Answer these questions for yourself before you start investing in any cryptocurrencies. If you are going to buy and already know how much you want to take out, start checking Dogecoin (DOGE) exchange rate and do a technical analysis, to find the perfect moment to buy your asset!
Buy or sell Dogecoin on Egera
Egera is a platform that is both an exchange and a cryptocurrency exchange. We accept deposits via bank transfers and cards as well as SEPA and Blik code. On Egera there is something for everyone, an innovative swapper in the exchange allows you to exchange FIAT currencies for cryptocurrencies in just a few seconds!
On the Egera cryptocurrency exchange everyone - even novice investors - will find their way. In the interest of the best possible investment results, we provide the tools needed for technical analysis, but also automations such as Stop Loss and Take Profit, which will allow every crypto-investor to sleep peacefully.
Egera is a lightning fast platform, from the start of registration to account verification takes an average of 3 minutes, after which users have full access to the benefits of the fastest cryptocurrency platform in Europe.
Buy Dogecoin on Egera today!