How and where to buy Ripple?
XRP is a cryptocurrency used for instant transfers. It runs on Ripple's network and supports many huge banking institutions around the world. Investors are mixed about it - the cryptocurrency is innovative, instant and has the potential to change payment systems, displacing VISA, but at the same time there are strong voices that XRP is centralised, yet cryptocurrencies should rely on decentralisation from overarching authorities. What is XRP and how and where to buy XRP?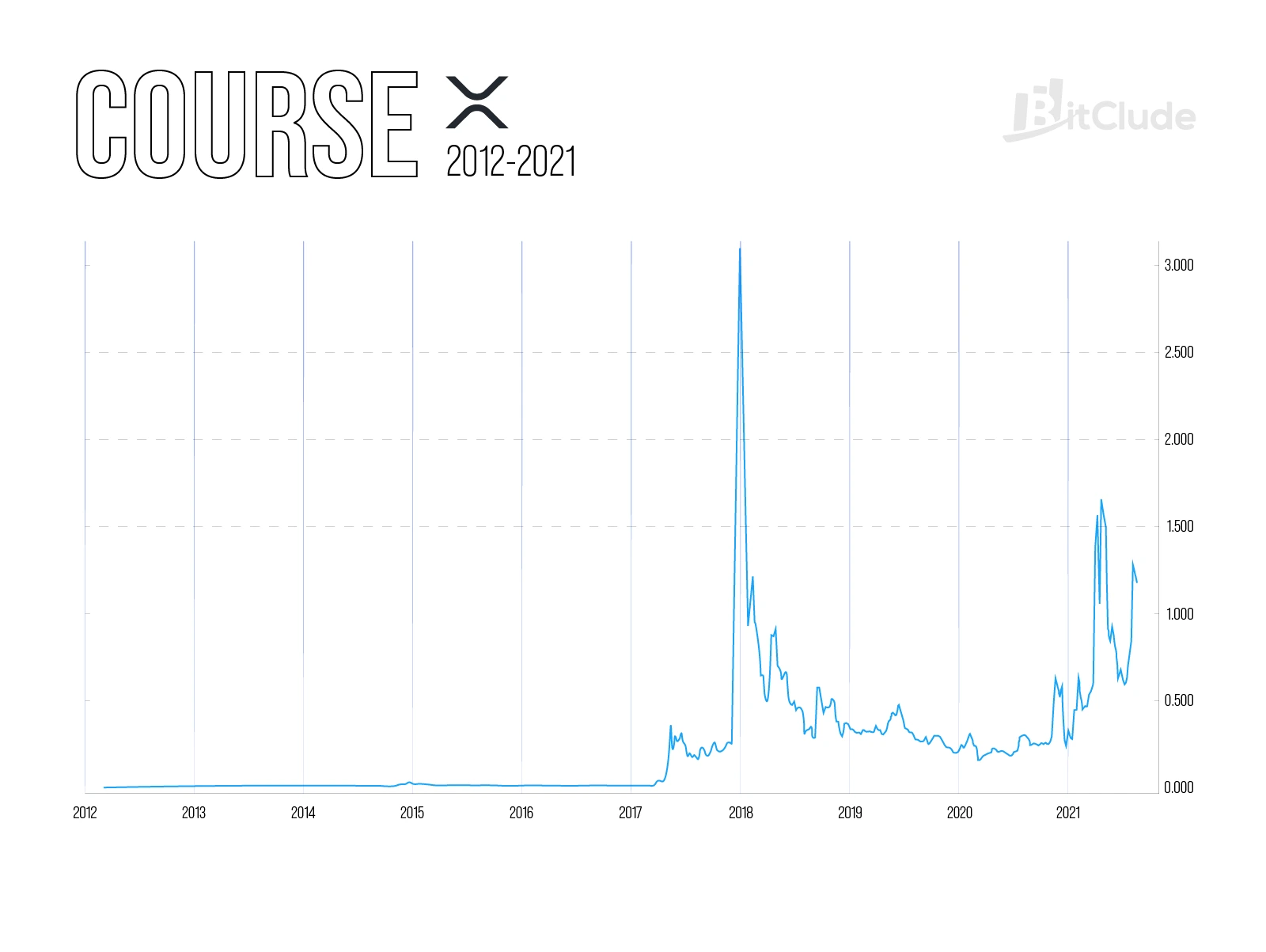 Ripple - how to get started?
Ripple is a popular and widely listed cryptocurrency on European exchanges such as Egera, Huobi and Binance. Remember, before you decide to buy Ripple, do your research and find out what this attractive asset is, which is seen by many investors as a complete revolution of the financial world.
What is Ripple (XRP)?
Every article about XRP should start with a small explanation - the cryptocurrency you will read about and buy - is XRP. Ripple is the name of the company that created XRP and uses it as an asset in their system.
So XRP is a cryptocurrency created for Ripple Labs products and natively running on that network. Unlike BTC, it is premined, meaning it was completely dug up before the launch of the system and is added to circulation by Ripple.
What is exotic is that XRP does not rely on conventional consensus like PoW (proof-of-work) or PoS (proof-of-stake), instead, the developers have created their own consensus - RPCA - Ripple Protocol Consensus Algorithm. By using a different system, the transaction handling performance is gigantic, compared to cryptocurrencies like Bitcoin (7 Transactions Per Second), Ethereum (15 TNS). XRP reaches 1,500 TNS, aiming for VISA, which currently handles as many as 65,000 TNS.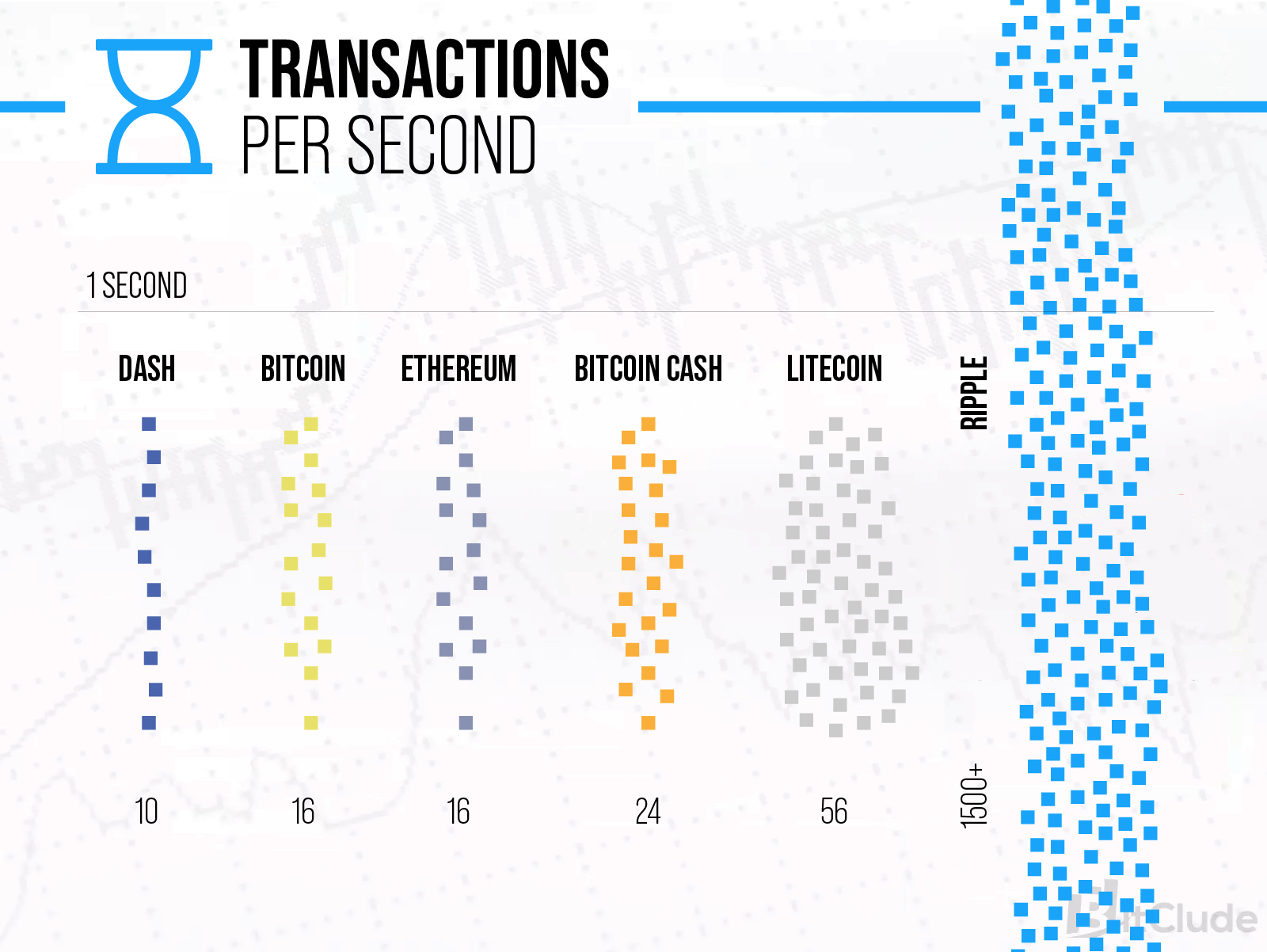 Transactions are executed through special nodes (Nodes) that validate transactions. There are 1000 nodes in the Ripple network, but a transaction is only approved when 80% of the 33 nodes selected by Ripple approve it. The UNL (Unique Node List) is a list that is highly controversial among decentralised cryptocurrency enthusiasts - the creation of a more important list of Nodes is, according to many experts, a symptom of network centralisation.
Nodes are the tip of the iceberg, the biggest concern is the very fact that XRP is directly used in Ripple's product network - when the company decides to swap XRP for another, newer cryptocurrency, XRP will completely lose its value.
Why is Ripple at the top of the cryptocurrency rankings?
One of the main reasons why Ripple cryptocurrency is gaining popularity among the cryptocurrency world is because of the interest from huge financial institutions such as Santander Bank, PNC Bank, Skandinaviska Enskilda Banken and Mitsubishi UFG. The reasons why banks are interested in using Ripple Labs' products are the huge scalability and low commissions on transactions. For them, XRP is a contender to be the fastest among cryptocurrencies in the world.
Another factor is the huge media confusion that Ripple is facing. The main and most media problem was the investigation by the U.S. Securities and Exchange Commission (SEC). The positive conclusion of the case for Ripple has brought XRP many new investors, hoping for new cryptocurrency price records.
How and where to buy Ripple (XRP)?
How to buy Ripple? There are both exchanges and cryptocurrency exchanges to choose from. In the European market we still have few platforms where you will buy XRP, even more so with a credit/debit card, but on Egera it is possible!
You can buy Ripple at the Egera exchange
Ripple exchange is certainly the easiest way to buy XRP. The whole process is made as simple as possible. After registering and verifying your account, which together take about 3 minutes, you just need to deposit the funds and you can proceed to purchase XRP. The Egera platform provides all the payment methods loved by users - Credit and Debit Cards, BLIK, Express and SEPA transfers and PayPal.
Historically, cryptocurrency exchanges did not require identity verification. The status quo changed with the law of 1 March 2018 on anti-money laundering and counter-terrorist financing. Since then, every user is required to verify identity before buying cryptocurrencies.
At Egera, verification will take you no more than a minute. For a successful operation, you need an identity card or passport and a device with a camera, such as a mobile phone. The whole process is automated and as fast as possible.
You can buy Ripple on a cryptocurrency exchange
Buying XRP on a cryptocurrency exchange requires minimal sophistication compared to a cryptocurrency exchange. Exchanges give users more room to manoeuvre - the buying and selling price can be set by the user in any way.
In addition, the stock exchange has tools that increase the comfort of investing, such as Take Profit or Stop Loss. Thanks to automation, you will not have to spend a lot of time on the stock exchange, thanks to which you will gain a huge measure of psychological comfort - even though the price is falling, your assets, thanks to the appropriate configuration of the tools, will be safe.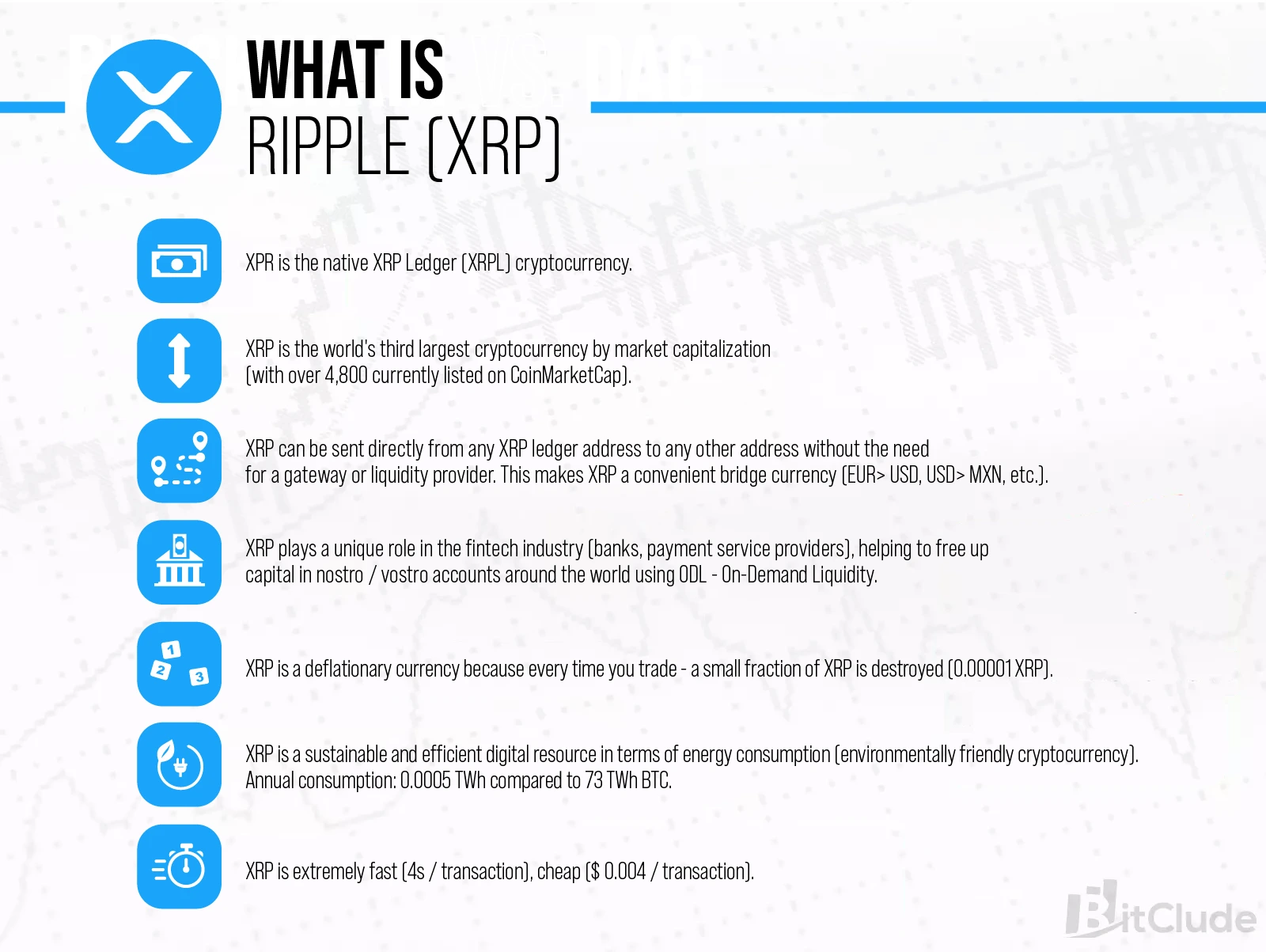 Cryptocurrency exchanges versus cryptocurrency exchanges - the differences
As you read above, a cryptocurrency exchange allows you to set your own price for buying and selling cryptocurrency - in this case XRP. The prices at a cryptocurrency exchange are set top-down by the exchange operator. The difference is also present in the commissions, which is marginally higher at the exchange.
Despite the higher commission, an exchange office is a much faster, and simpler, solution than an exchange. All you have to do is enter the amount you want to exchange for in the swapper. It is worth mentioning that in an exchange office, transactions are carried out instantly, while on a cryptocurrency exchange, the user is forced to wait until his offer meets the offer of another user.
Which is the better choice for buying Ripple?
If you're just starting out in cryptocurrency investing and haven't used an exchange of another kind before (for example, a CFD exchange), a super-intuitive exchange with instant swaps may be a better choice. As you become more familiar with cryptocurrencies, an exchange may become the natural choice.
Is there any other way to buy Ripple (XRP)?
An alternative way to buy Ripple is to buy from a private individual. Unfortunately, you are not protected in such a transaction, so we recommend using platforms embedded with local laws that protect your interests.
Ripple storage wallet
The supreme rule of the cryptocurrency world is that everyone is their own bank. This rule means great freedom for users - the lack of a superior authority translates into no stopped or reversed transactions. Freedom requires responsibility, which is why every cryptocurrency user is responsible for the security of their funds themselves, so it can be said that the level of security is only as high as the user takes care of it.
The absence of banks and the specificity of cryptocurrencies also makes the transactions made irreversible - which is why you should always be sure that the address to which you send cryptocurrencies is correct.
Choosing an XRP wallet is a little more problematic than with other cryptocurrencies. Ripple charges a fee of 20 XRP for opening a new address. For this reason, you need to think carefully about which cryptocurrency wallet to choose, and what do we have to choose from?
Cold and hot XRP wallets
We can divide cryptocurrency wallets into two categories, based on their connection to the network. Hot cryptocurrency wallets maintain a constant connection, which makes them more vulnerable to attacks than cold wallets, which are only connected to the network when the user needs it.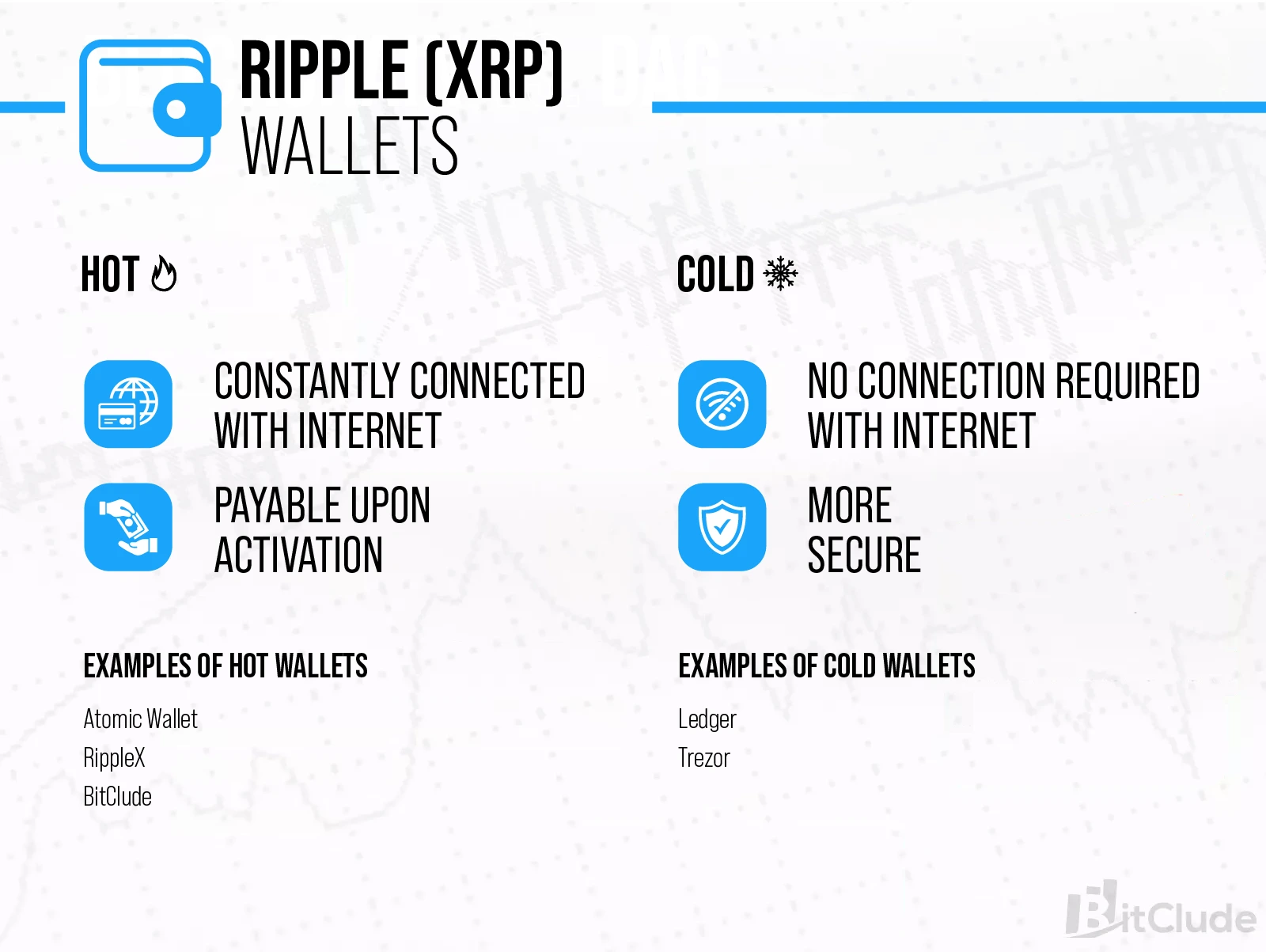 Hot wallets are the most popular solution, you will encounter them on cryptocurrency exchanges and bureaux, but also in the form of mobile, desktop and web applications. Examples of XPR hot wallets include Atomic Wallet, RippleX, and Egera.
Cold wallets are less popular, but provide the highest level of security for funds. These are physical devices that most often look like a flash drive, while they differ from these devices by, among other things, having an advanced operating system that allows you to manage your funds in a simple way.
The most popular cold wallets on the market come from Ledger and Trezor and although there are other cold wallet companies, these two are the most popular choice for investors.
What else to look out for when buying Ripple?
Before you buy XRP, be sure to follow the Ripple exchange rate, preferably in the pair in which you intend to invest - XRP PLN, XRP USD, XRP EUR, etc. Based on your observations and technical analysis Plan your investment strategy. Determine in it how much you want to earn and how much you can lose. Based on the strategy, set up tools on the cryptocurrency exchange or find the perfect moments when you say - this is it! Now I can buy XRP.
Buy or sell Ripple on Egera
Egera is the fastest platform in Europe. It takes an average of 3 minutes from the start of registration to account verification, after which users have full access to the full capabilities of the best exchange on the continent.
Watch the odds and buy Ripple on Egera today!