24h low / 24h high
Current:

Current exchange rate of Dogecoin (DOGE)
The current exchange rate of Dogecoin (DOGE USD) is
Dogecoin exchange rate stirs emotions The cryptocurrency, which was initially inspired by a meme, has become one of the largest virtual currencies, reaching a capitalisation of . The current number of coins in circulation, is , and the maximum number of coins that can be in circulation is unlimited.
Dogecoin hit its historical minimum on May 6, 2015 reaching a valuation of $0.00008690. Since then, the exchange rate has increased by more than 200,000 percent While the historical maximum (ATH) was reached on May 8, 2021, when the exchange rate rose to $0.731578
DOGE USD price in 24h period
The current Dogecoin (DOGE USD) exchange rate is today, which means that in the last 24 hours the Dogecoin (DOGE) exchange rate has changed its value by
Price DOGE PLN in 24h period
On the Polish market, Dogecoin (DOGE PLN) is traded at which means that the price of Dogecoin has changed by in the last 24 hours.
What is Dogecoin?
It is a cryptocurrency that was inspired by the internet meme doge, which in Poland is known as dog. It is somewhat amusing that a cryptocurrency hailed as a meme has become very popular and its valuation has skyrocketed incredibly. The success of this initially satirical project is really considerable, as Dogecoin is the 7th largest cryptocurrency in terms of capitalisation. As of , the market capitalisation is over $27 billion.
Despite the satirical nature of this cryptocurrency, some believe it can be a sound investment asset. Dogecoin's image is presented as a fun as well as friendly internet currency. This image definitely favours Dogecoin, which is gaining more and more supporters. The image has been particularly warmed by Elon Musk, who has frequently mentioned Dogecoin via Twitter.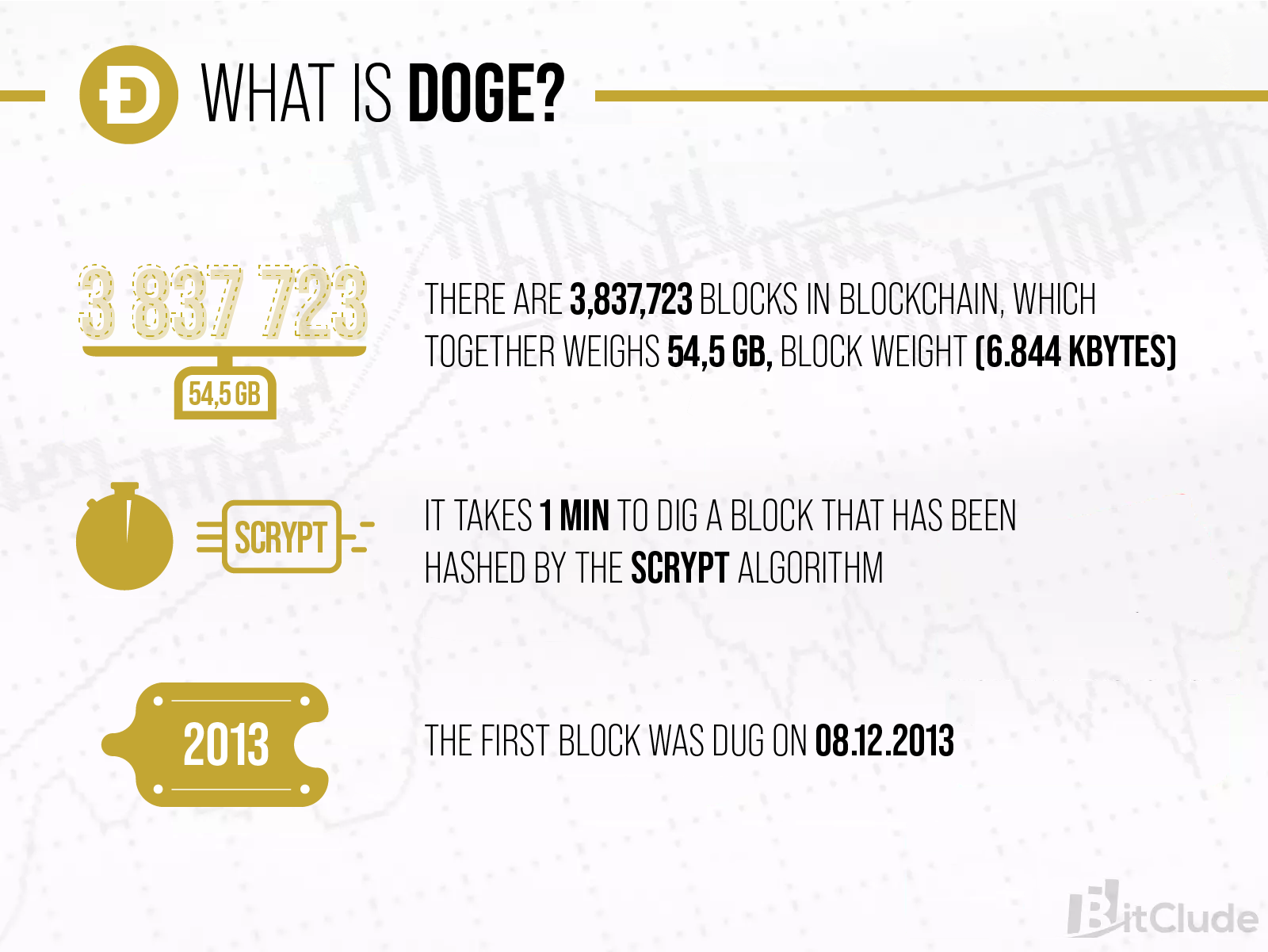 The main use of Dogecoin was to create a tipping system on Reddit and Twitter. In this way, quality content was to be rewarded. Tips can be received in two ways. The first is by sending funds to the wallet address. The second way is the so-called Dogeoin faucet(in English Dogecoin faucet). It is worth noting that the community built around Dogecoin is very active and successfully organises many fundraisers for interesting causes (including charity and supporting athletes).
How does Dogecoin work?
Dogecoin is based on a peer-to-peer network. It was built on the basis of Litecoin. Dogecoin's protocol differs quite significantly from the most popular proof-of-work protocol, which is used for example in Bitcoin. The main difference is the use of Scrypt technology. The time of one block is 1 minute. The supply of Dogecoin is unlimited, which means that it has no deflationary pressure and inflation occurs naturally.
How do I mine Dogecoin?
Dogecoins can be mined by individual miners or by a group, a so-called mining pool. To mine, all you need is hardware with any operating system (e.g. Windows, Mac or Linux) and a special application to run the miner (e.g. HiveOS). The use of a graphics processor is crucial for digging. It is interesting to note that Dogecoins can be mined at the same time as Litecoins, as the two processes are very similar. However, it is important to note that there are significant differences between digging Litecoin and Dogecoin (Dogecoin). Dogecoin's block time is one minute while Litecoin's block time is 2.5 minutes.
Who created Dogecoin?
The founder of Dogecoin is Billy Markus and Jackson Palmer. They are two engineers who came up with the idea of founding Dogecoin with the plan that it would be a form of joke. The joke was to poke fun at the intense speculation surrounding cryptocurrencies. In addition to its satirical function, the newly created currency was intended to reach a wider demographic than Bitcoin.
Palmer bought the domain dogecoin.com. Remarkably, during the very first 30 days of dogecoin.com's launch, the site received over a million visitors. One of the site's viewers was Billy Markus, who contacted Jackson Palmer and so the efforts to create a new cryptocurrency began. According to information that can be found online, it took about two hours to create Dogecoin. The release of Dogecoin to the market proved to be quite a success. The cryptocurrency was released to the market on December 8, 2013 and already on December 19 the value increased by almost 300 percent in 72 hours. The DOGE exchange rate has risen tremendously over the past few years and the community around the currency is extremely engaged. Without a doubt, this is a big success and even something of a phenomenon.
At the same time, it should be noted that Dogecoin's creators have not made any major changes since 2015. This may mean that Dogecoin will not be aligned in the future with more advanced projects such as Ethereum, which is being intensively developed all the time. However, it is not the technological aspects that are Dogecoin's advantage but the community that is strongly attached to this currency.
Who are the founders of Dogecoin?
Billy Markus was a software engineer at IBM, originally from Portland, Oregon. And Jackson Palmer was a member of the marketing department at Adobe Systems in Sydney.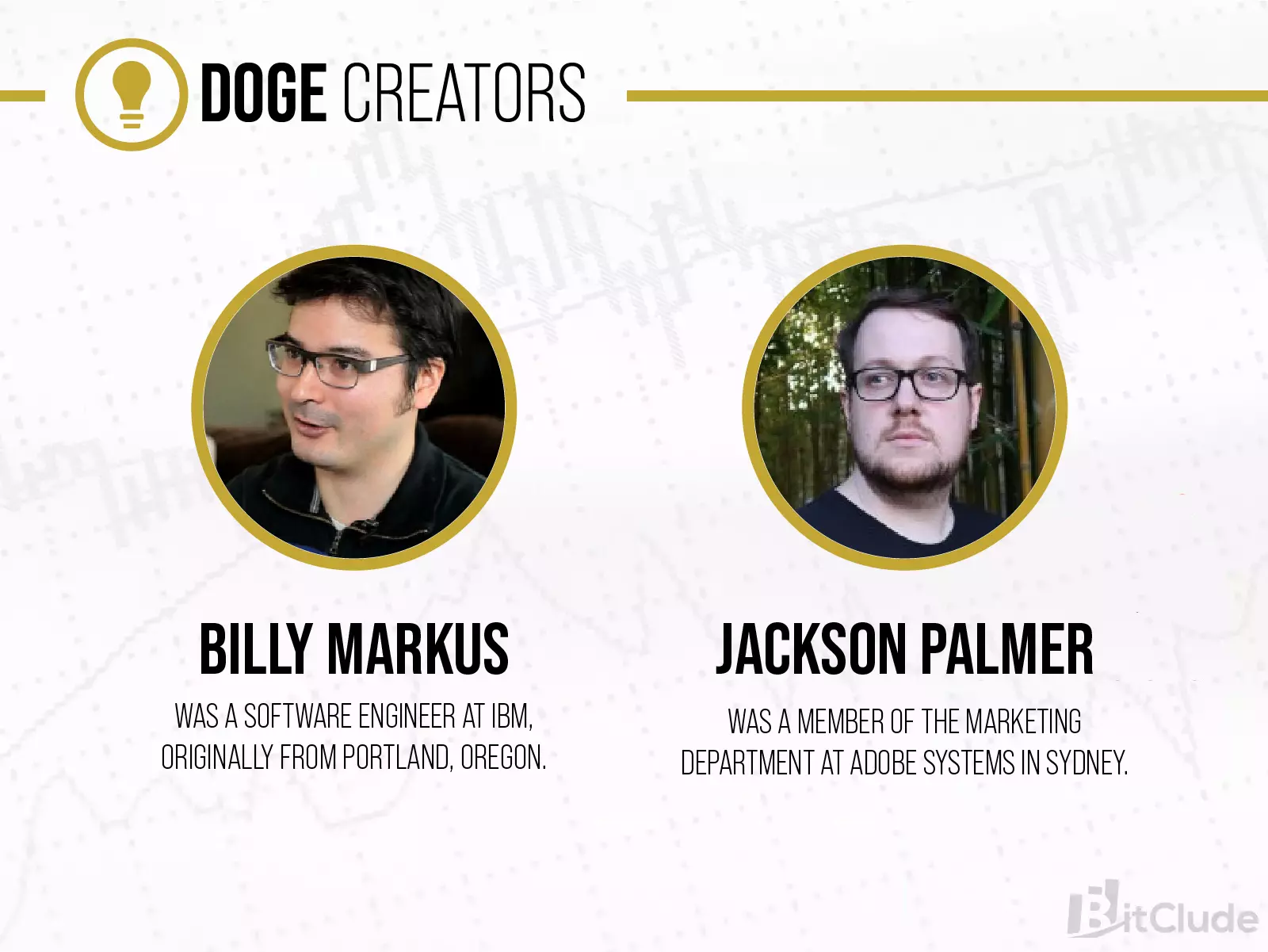 What is the supply of Dogecoin?
It is important to know that most cryptocurrencies are characterised by strong deflationary pressures due to the limited number of units (e.g. in the case of BTC, the maximum number of Bitcoins is limited to 21 million units). Meanwhile, Dogecoin is an inflationary currency. In other words, the supply of Dogecoin has not been limited and more units of this cryptocurrency are still coming to the market.
The first release of Dogecoin took place in December. The supply began with the release of 100 billion coins to the market. The last coin in this pool, the 100 billionth Dogecoin, was released on June 30, 2015. Thereafter, 5.256 billion new coins are introduced every year. Thus, the number of Dogecoin should double in 20 years, with another doubling by 2175.
Elon Musk on Dogecoin
American entrepreneur Elon Musk, who is associated with brands such as PayPal, SpaceX and Tesla, is associated with Dogecoin. Elon Musk often expresses his views on Dogecoin via Twitter. Very interestingly, it is most likely that the opinions presented by Elon Musk online about cryptocurrencies influence the valuation of some virtual currencies. In other words, according to some, Elon Musk's tweets can be seen as a way to manipulate the market. This is particularly evident in the case of Dogecoin, which reacts extremely strongly shortly after the publication of the tweets on Elon Musk's account. Of course, it cannot be unequivocally confirmed that Musk's tweets are influencing price movements however, the several times observed change in the valuation of DOGE leads some to this conclusion.
Musk's first tweet regarding Dogecoin was in December 2020. The content was economical in words but eloquent - One Word: Doge. After this all too brief tweet, the price rose by around 20%. Further posts dedicated to Dogecoin appeared in February 2021. These tweets were also followed by an increase of around 40%. Even bigger increases were recorded in April 2021. That's when the image Doge Barking at the Moon appeared on Elon Musk's account. That was enough for the share price to rise by more than 100%. The next example was on 24 May, when the price rose by around 10% just hours after Elon Musk asked internet users to suggest ideas for improving the cryptocurrency.
History of the Dogecoin Cryptocurrency Course
DOGE quotations from 2013 to 2016
Dogecoin was launched on 6 December 2013. In the first 30 days of operation, the dogecoin.com website received more than one million visitors, which shows how popular it was right from the start. After less than two weeks, on 19 December, a rise in the exchange rate of $0.0026 to $0.00095 was recorded, which is almost 300 percent. Just three days later, the price had fallen by 80%. The following months were not particularly rich in spectacular increases. From 2014 to 2016, the exchange rate remained between USD 0.00008 and USD 0.00024.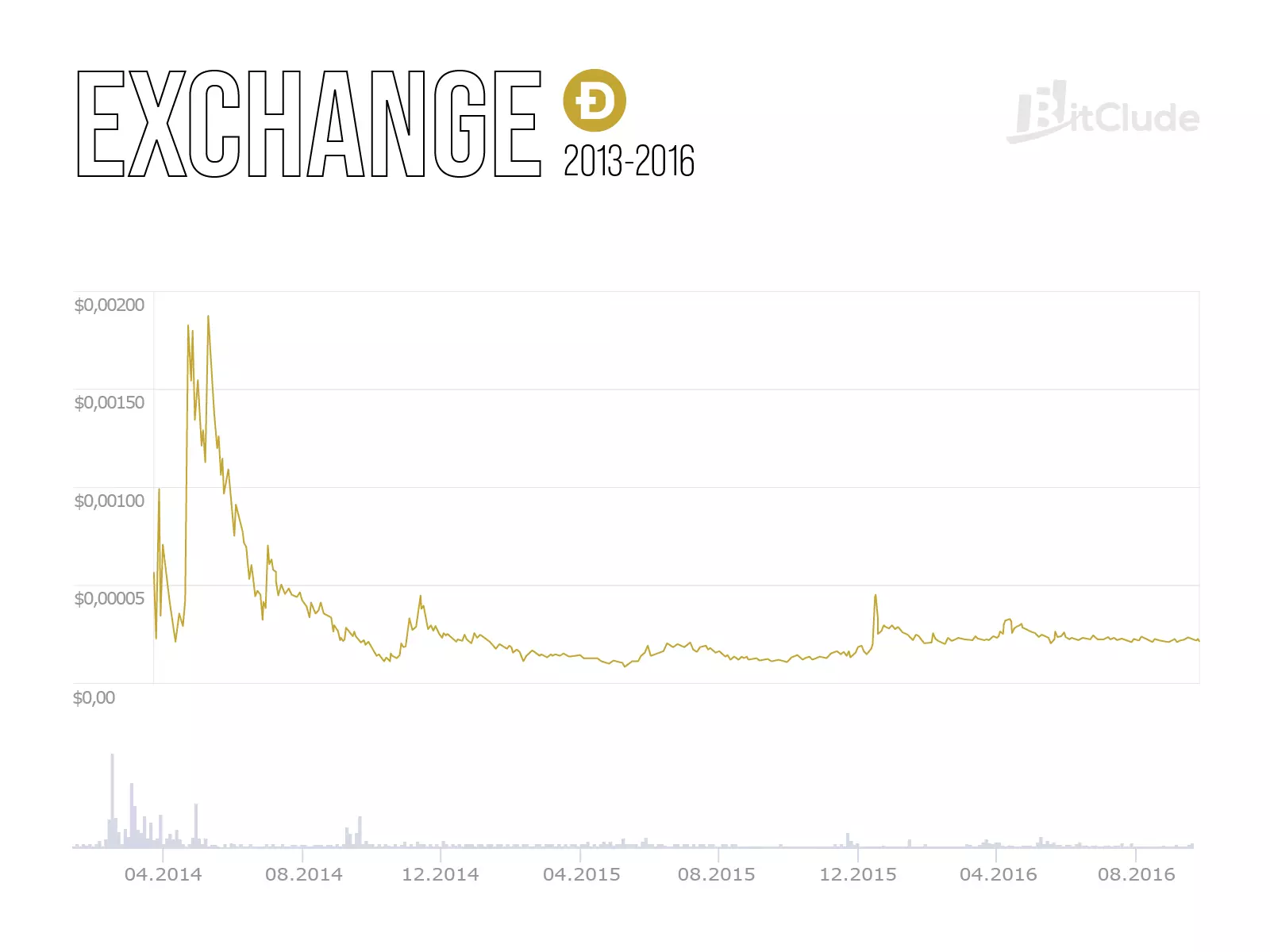 DOGE quotations 2017-2020
It was only between 2017 and the beginning of 2018 when the first major bubble could be talked about. It was then that Dogecoin reached its peak at $0.017. In the second part of 2018 until the end of 2020, the exchange rate fluctuated oscillating around the limit of $0.002 - $0.003. During this period, the last not-so-impressive rise above the USD 0.005 mark occurred in September 2018. For truly impressive increases, we had to wait until early 2021.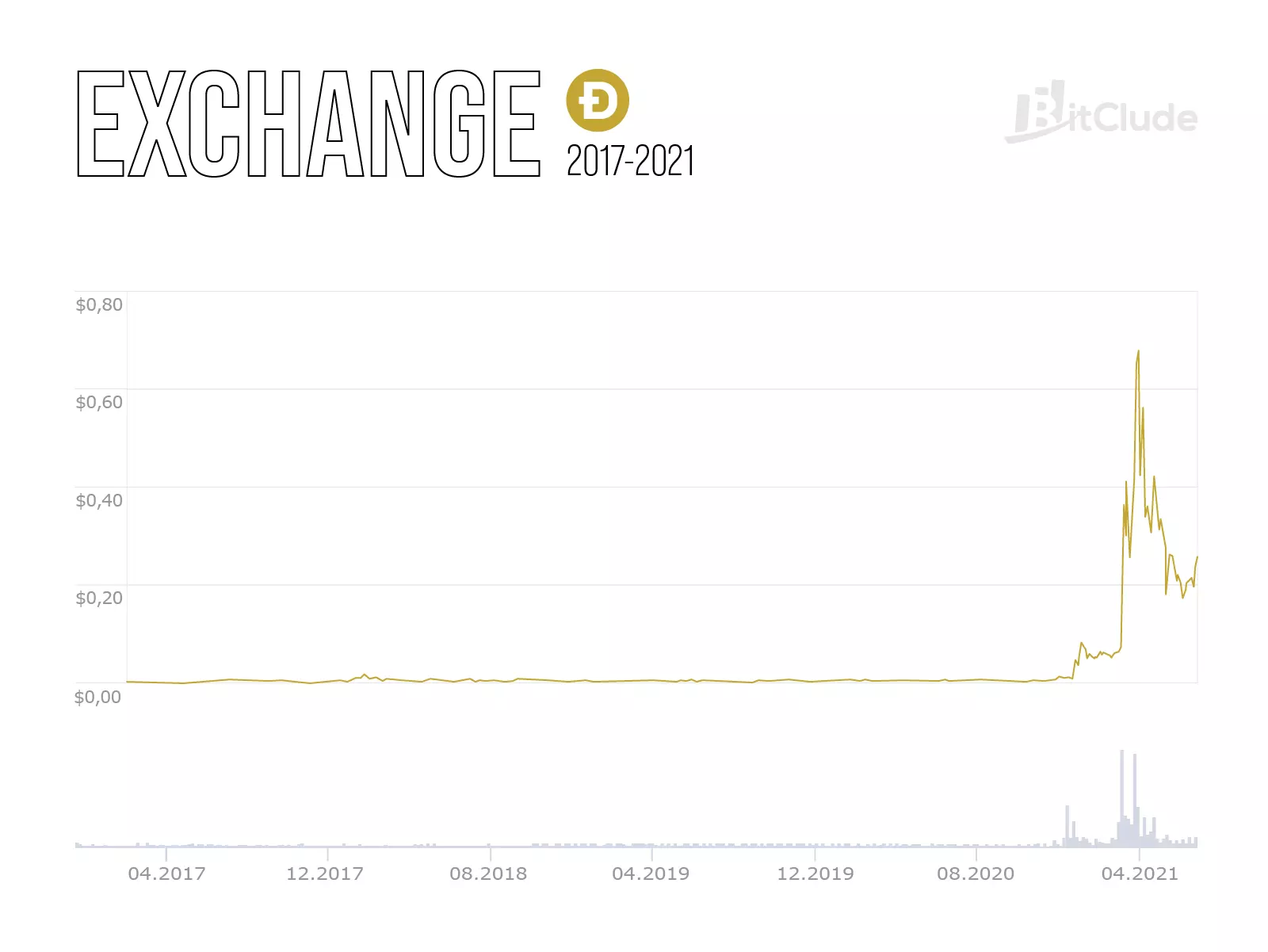 DOGE quotations in 2021
January 2021 is when the price skyrocketed, recording an impressive 800% increase in 24 hours to reach a price of $0.07. Such a strong and rapid growth was probably caused by high interest from users on Reddit. February 2021 saw another increase to the level of USD 0.08, this time the reasons for the growth could be found in tweets by famous personalities (including entrepreneur Elon Musk and rapper Snoop Dogg). For the first time, the psychological barrier of USD 0.10 was pierced on 14 April 2021. Breaking through this barrier proved to be the prelude to another large and rapid rise. Just two days later, the price reached USD 0.45 thus recording 400% in a single week. April was a particularly hot month for Dogecoin. Market capitalization reached almost $50 billion, thus making the satirical currency created for a joke become the fifth most popular cryptocurrency in the world. At that moment, the demand for Dogecoin began to be described as unprecedented. Great interest in the currency signed with a friendly dog did not diminish and, as a result, already on 4 May 2021 another symbolic limit was exceeded - this time 0.50 USD. In this way the exchange rate increased by 20 000% within one year. This was enough to announce that Dogecoin became the fourth largest cryptocurrency in the world with a market capitalisation of $78 billion. Such a powerful interest from investors caused Dogecoin to become more and more daringly interested in the mainstream media. The best confirmation of this fact was Elon Musk's visit to a popular television talk show in the United States. After the broadcast of the interview with Elon Musk, the stock price fell by over 43%, which meant a decrease in value by several tens of billions of dollars. The downward trend continued and by mid-2021, the cryptocurrency reached $0.20.
Dogecoin controversy
First of all, the main challenge is that Dogecoin still has to measure up to its satirical origins. This makes it hard for financial experts and the mainstream media to take it fully seriously. Another challenge is that Dogecoin has been compared by some to a typical example of a speculative bubble or even a financial pyramid scheme.
A serious problem standing in the way of Dogecoin's development may be the lack of an entity to manage it. Thus, it is hard to expect serious updates in the future. Despite its huge popularity, this cryptocurrency still does not have a team of developers to look after it. As a result, performance issues, which were evident on those days when interest in Dogecoin was highest, may be a limitation. Dogecoin's blockchain is capable of processing a maximum of 40 transactions per second which practically rules out its chances of becoming a widely used transaction currency.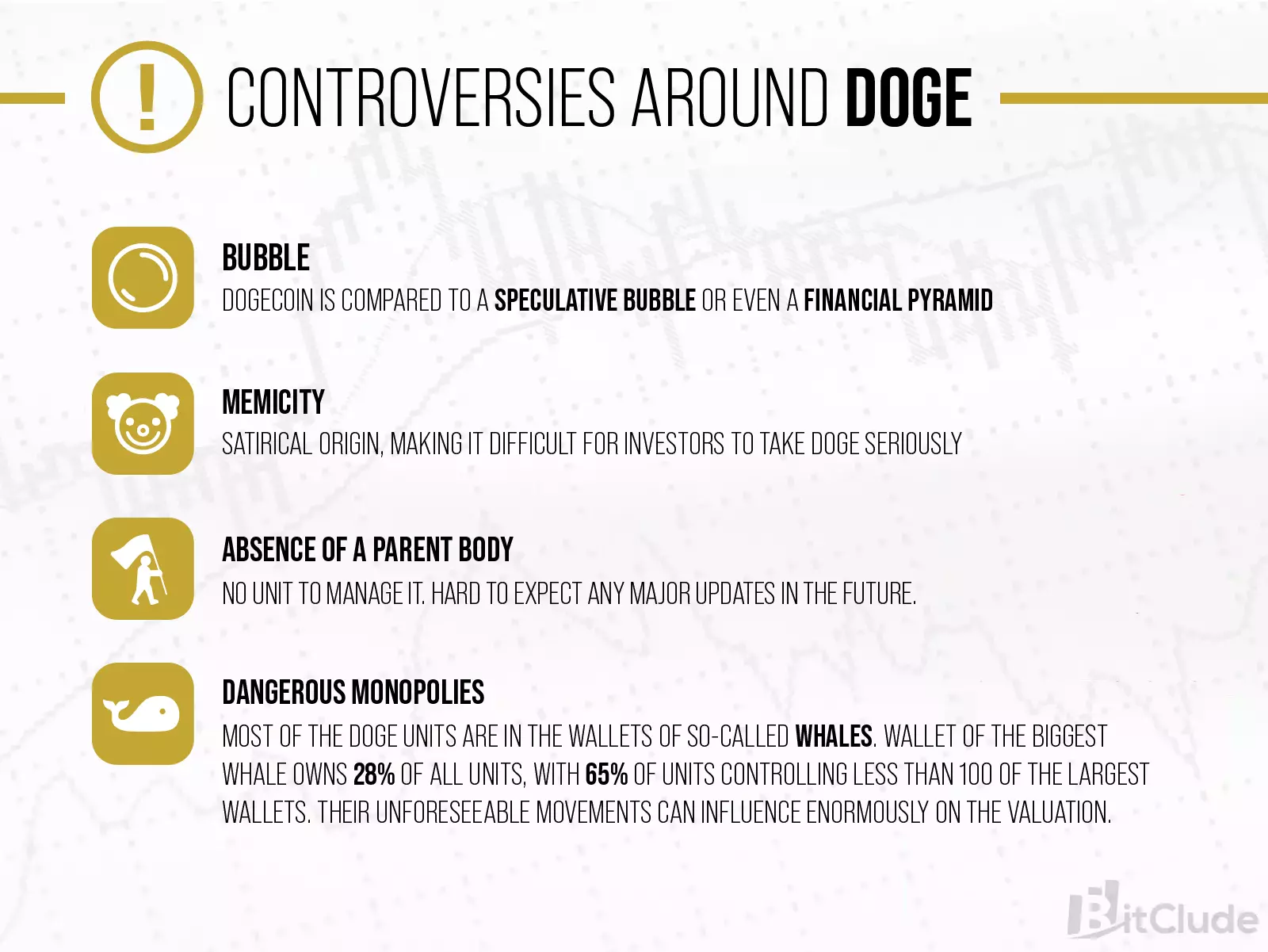 It certainly doesn't sound good from the perspective of a novice investor that the majority of DOGE units are in the so-called whale portfolios. The portfolio of the largest whale holds as much as 28% of all units, at the same time less than 100 largest portfolios control 65% of the units. This means that Dogecoin is actually controlled by a small group of so-called whales. Their movements, which are impossible to predict, can have a colossal impact on the valuation. Investments in Dogecoin should be treated with a great deal of caution. It is an altcoin, which is distinguished by outright cosmic increases (according to the saying to the moon). However, one must be aware that it is a high-risk investment. Interestingly, the currency has even been criticised by the co-founder himself (Jackson Palmer).
Dogecoin wallet - Which wallet to choose?
Of course, cryptocurrencies, unlike fiat currencies, cannot be stored in the proverbial sock or in a traditional wallet such as a leather wallet. Here you will need a special wallet for cryptocurrencies. The market distinguishes between cold wallets (cod wallet) and hot wallets (hot wallet). The difference between one wallet and the other is that the so-called cold wallet does not have a permanent connection to the internet, which has an impact on the increased level of security.
Hot Dogecoin wallet
The advantage of a hot wallet is that you can easily manage it from anywhere in the world. All you have to do is log in to the app on your phone or browser, for example, to have quick access to your funds. Most people who frequently trade cryptocurrencies choose this method primarily because of the convenience.
Cold Dogecoin wallet
A cold wallet is a solution that is rather chosen by long-term holders. In this case it is not enough to register and log in to the appropriate application, as a special physical device resembling a flash drive will be necessary. The most popular cold wallets are Ledger and Trezor.
Is it worth getting interested in Dogecoin?
Dogecoin is a currency that has a large and strong community. Many cryptocurrency enthusiasts look with great affection at the currency, whose image was built on the basis of a funny meme with an adorable dog. Dogecoin is certainly a phenomenon that cannot be passed by indifferently. This is shown primarily by the fact how high it has climbed in the ranking of cryptocurrencies with the largest market capitalisation.
Summary
Either way, it is important to remember that investing in Dogecoin is a high-risk investment, even if we compare this cryptocurrency to others. Certainly Ethereum or Bitcoin are currencies with a much more stable market position. This does not change the fact that Dogecoin will probably surprise the public more than once with interesting reports.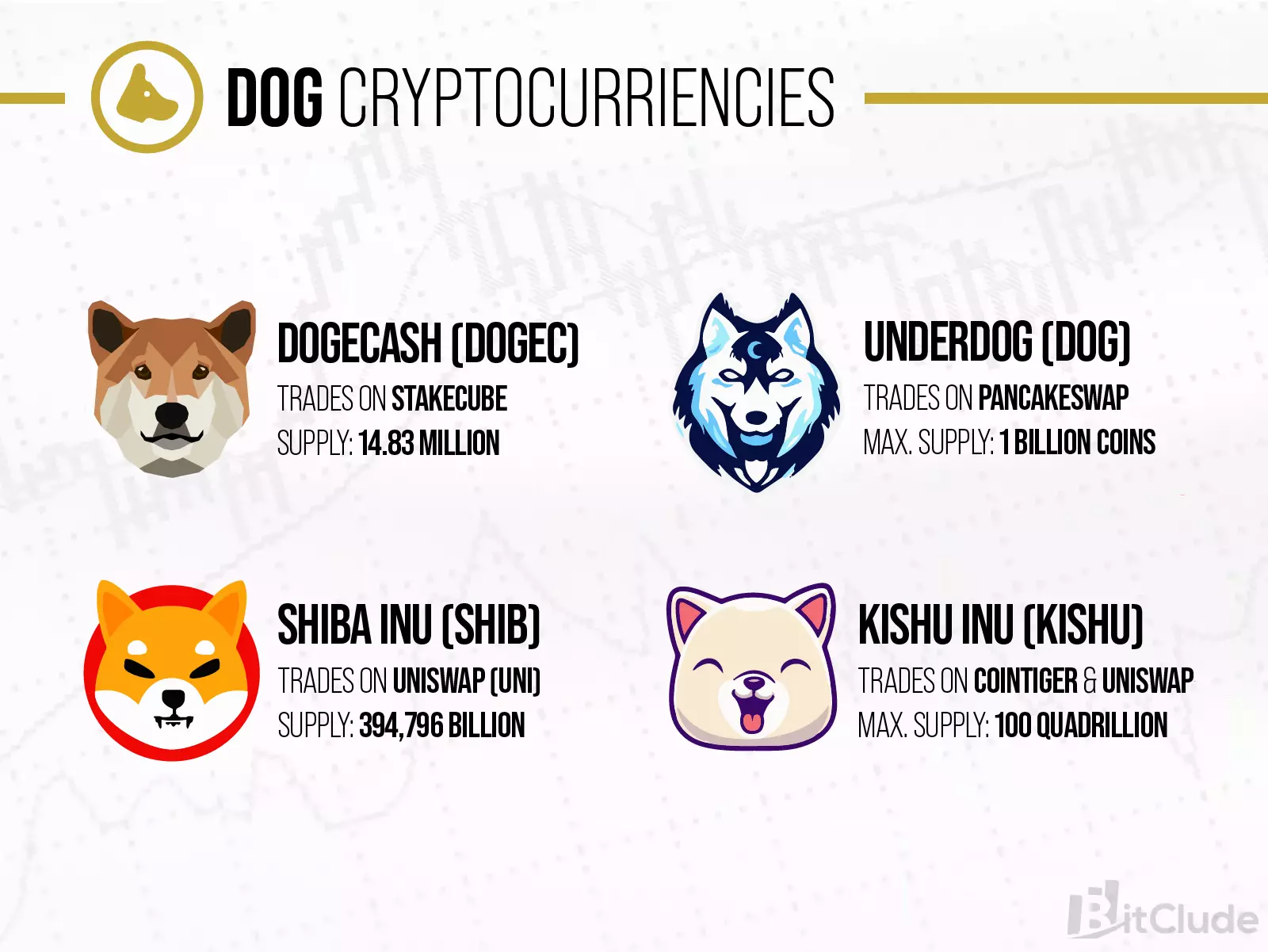 More and more dog cryptocurrencies are on the horizon, one of the more popular ones has become Shiba Inu, which has had the opportunity to come close to DOGE in terms of capitalisation. It is interesting to note that Shiba reached a 24-hour Volume of $15.08B during the period of investor delight, which for such a young cryptocurrency is an incredible event. In comparison, Doge's highest May 24h Volume was $38.89B.
Start your trading journey right here!
...or just keep calculating prices
Trade