24h low / 24h high
Current:

How much does Ripple (XRP) cost?
Cryptocurrency, in accordance with its type (digital currencies) is characterized by a huge exchange rate dynamics, and even the smallest event - as in the Butterfly Effect, can result in a significant change in the exchange rate. For these reasons, it is worth following the Ripple live rate.
Since its inception in 2012, the value of XRP has increased by tens of thousands of percent - by to be exact.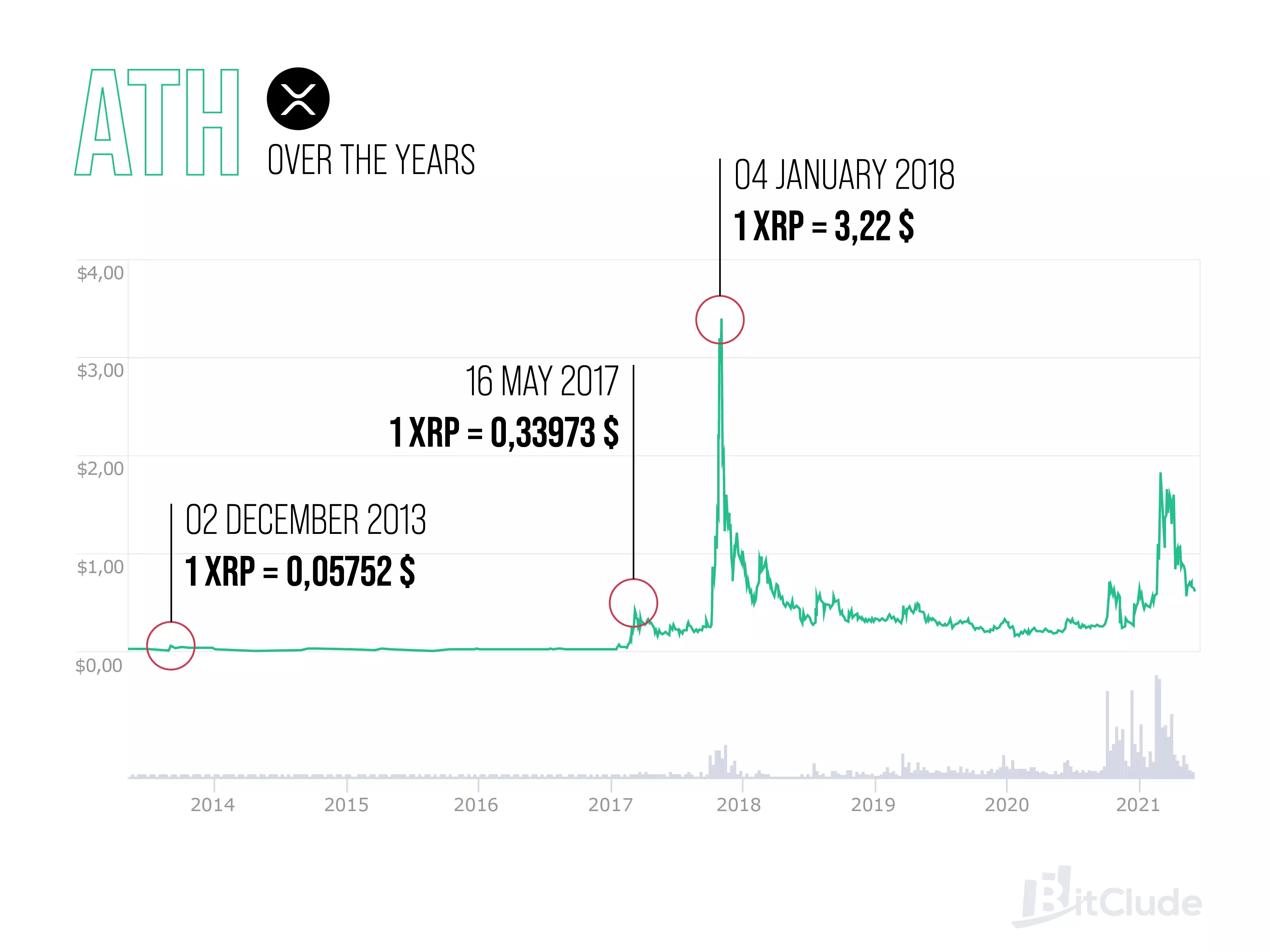 The current cryptocurrency exchange rate may vary slightly between cryptocurrency exchanges. This difference is due to the individual specifics of each exchange, and the most important among the factors are the users and the amount of exchange volume they generate.
XRP USD price in 24h period
The current Ripple (XRP USD) exchange rate today is which means that in the last 24 hours, the XRP exchange rate has changed its value by .
Price XRP PLN in 24h period
On the Polish market - Ripple (XRP PLN) - is valued at , which means that the price of XRP PLN has changed by in the last 24 hours.
What is XRP (Ripple)?
Any discussion or article relating to XRP or Ripple should point out at the outset that the currency you are currently observing in the exchange rate is not called Ripple at all! Remember that these are two different, but close, things.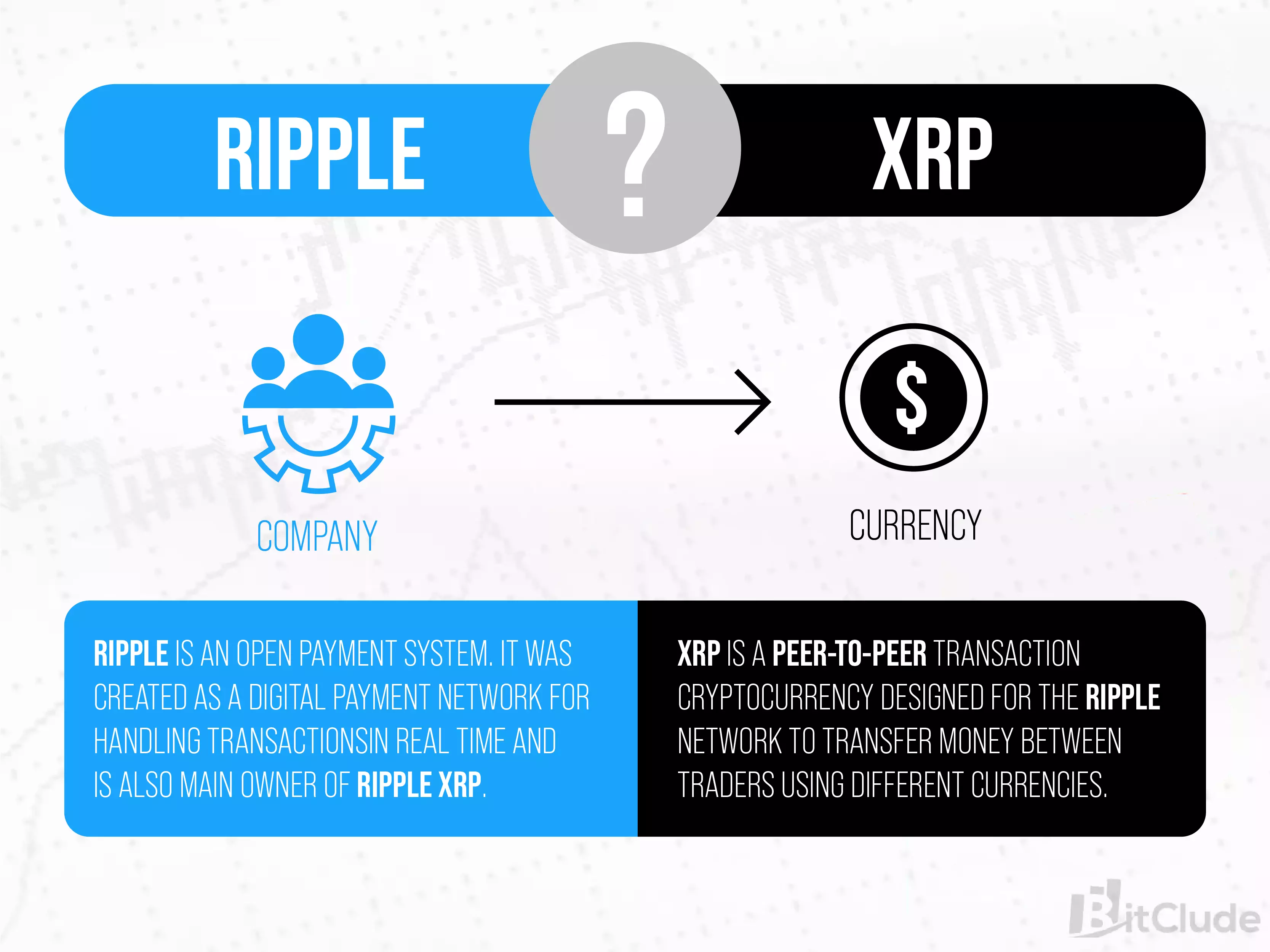 So what is the name of Ripple?
The often confused name refers to a real-time gross settlement system that also includes a currency exchange and foreign exchange remittance network. Ripple was created by a US technology company and released in 2012. The platform is built on a decentralised open-source protocol that draws on the BTC blockchain for its premise.
The platform supports both tokens representing fiat currency (traditional - USD, EUR) as well as cryptocurrencies, commodities and other assets representing value. To paraphrase Ripple, their platform enables secure, instant and almost free global financial transactions, of any size and without chargebacks. The platform that provides all of the aforementioned usability is RippleNet.
RippleNet - the Ripple money transfer network.
RippleNet is a network created for institutional payment service providers such as banks and money service companies. The network offers a suite of three products that has been created for banks as well as other - including smaller - financial institutions. The products in question are:
RippleNet Financial Products:
xRapid solves the liquidity problem among banks and completely eliminates delays in global payments while drastically reducing their costs, making international payments instant, cheap and secure. The main requirement, without which xRapid will not work, is XRP, where all transaction and exchange operations are performed;


xVia is an interface that allows users (in this case financial service providers) to interact within a single framework - RippleNet. The service allows entities to make transactions through other entities (banking partners, located in RippleNet.);


xCurrent is a software for interbank communication and settlement, built on the ILP (Interledger Protocol). In application, this payment protocol allows operations to be conducted between different ledgers and payment networks. Transactions carried out in this system allow for traceability, since banks communicate in real time, need confirmation of payment details before initiating the transaction and information on the very completion of the transfer of funds.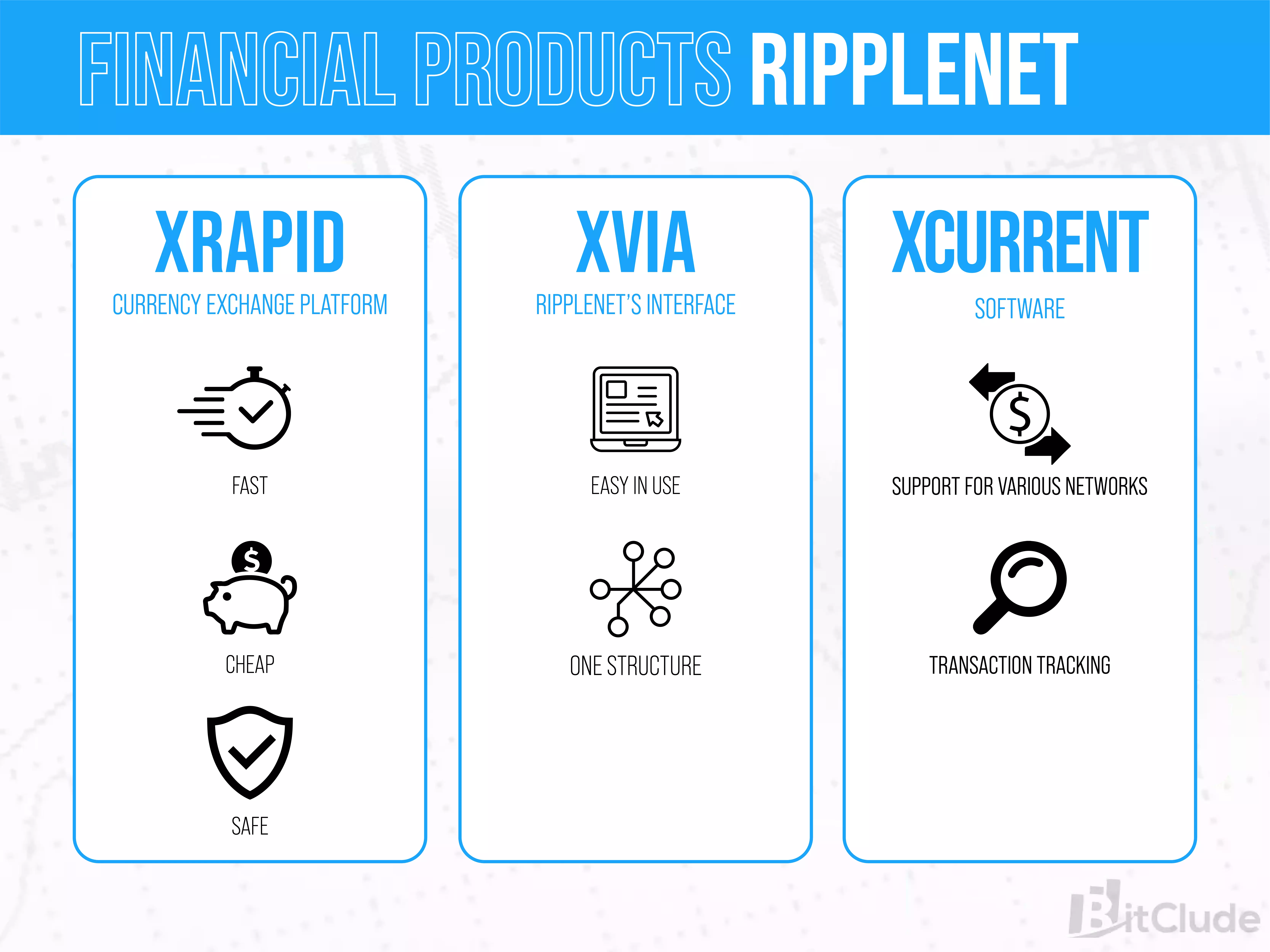 The Ripple story began in 2004!
In the early 2000s, international money transfers were already quite popular, with solutions such as the SWIFT payment protocol and other similar solutions supporting cross-border transactions already available. Unfortunately, the commission costs of these solutions were horrendously high, so their use was not so obvious at the time.
In such circumstances, there is always a visionary in whose mind a unique solution to a burning problem is crawling. It was no different in this case. Ryan Fugger began developing the Ripple idea in 2004, bringing it to life in 2005. His intention was to create a monetary system that would be decentralised and could effectively support individuals and entire communities in creating their own money. Interestingly, Fugger predated Satoshi Nakamoto and BTC by many years with his idea and despite this, That it did not use blockchain, it was based on very similar assumptions and objectives.
The Fugger project operated until 2012, after which it changed owners.
Jed McCaleb, Arthur Britto and David Schwartz, the new owners of Ripple, decided to change the name of Fugger's project, starting OpenCoin, which after some time returned to its original name. The change of ownership was followed by a thriving project and it was then that the XRP currency was created, which allows institutions to transfer money without fees and waiting times.
How does XRP work?
XRP is a cryptocurrency natively running on the Ripple Labs product system. Unlike BTC, XRP is premined, meaning it has been completely dug up. Another difference is in the confirmation of transactions - XRP, unlike BTC, does not rely on PoW (proof-of-work). It doesn't even rely on PoS (proof-of-stake)!
Transactions this cryptocurrency are confirmed by a specific consensus protocol, which is an integral part of the whole system and prevents double spending. Confirmations take place via special nodes (Node) and take no more than 5 seconds.
RTXP (Ripple Transaction Protocol) capacity
RTXP, also called RPCA (Ripple Protocol Consensus Algorithm), is a huge improvement in transaction processing speed against BTC (7 transactions per second - tps) and ETH (15 tps). RTXP is currently capable of 1,500 tps, which still compares poorly with Visa, which is capable of as much as 65,000 tps, but Ripple asserts that Visa's throughput is manageable.
XRP versus traditional digital currencies.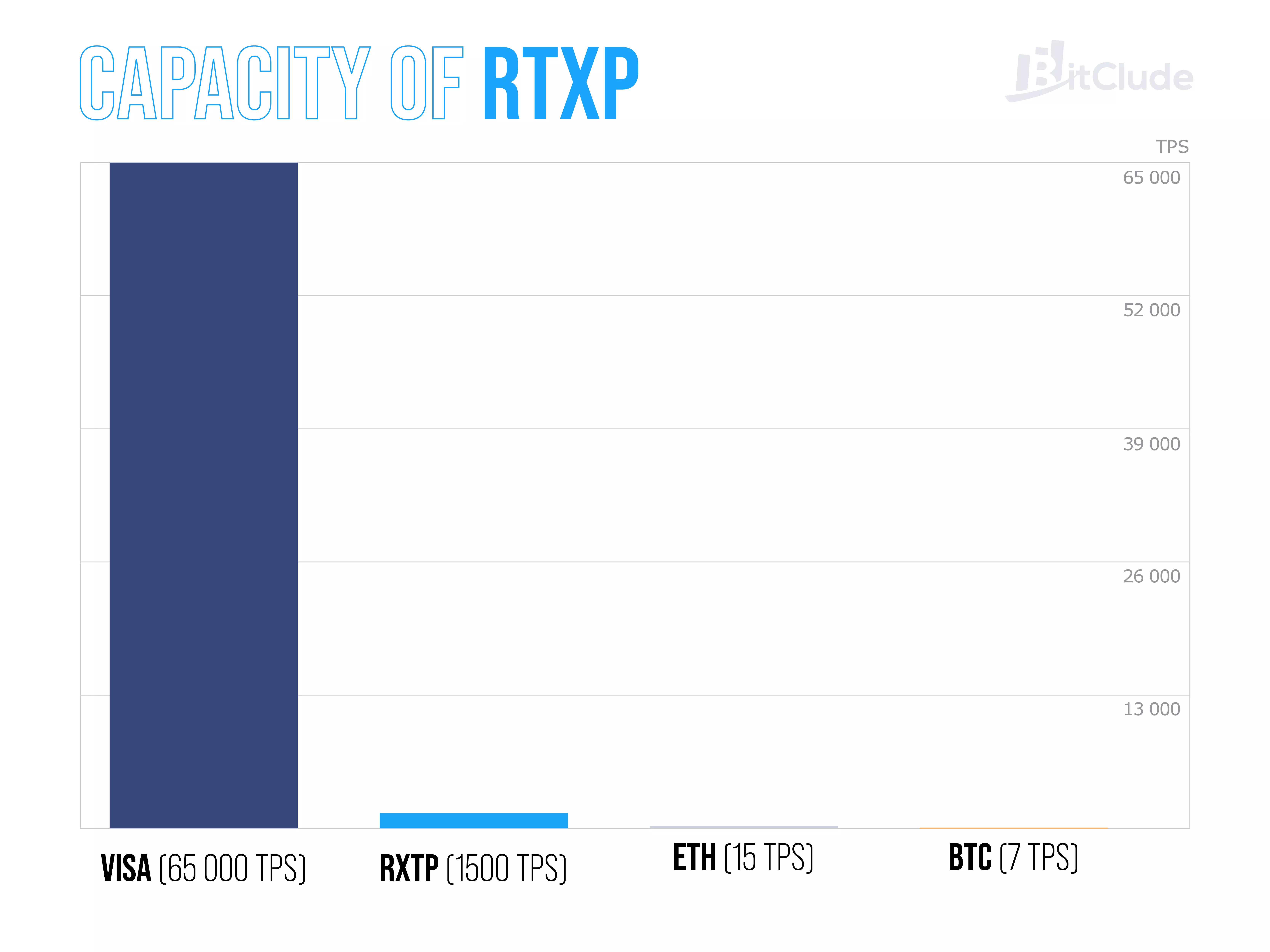 The difference between traditional cryptocurrencies and XRP can be seen even in the payment of transactions - when transferring funds in BTC, you have to pay a commission (fee), for confirmations, while with XRP there is no commission construct - instead, the user commits to burning a very small part of XRP - a drop. The minimum amount to be burned is 0.00001 XRP, but if the user wants to transfer funds faster - he is forced to burn more XRP, which is nevertheless minimal.
Such a system preserves the deflationary nature of XRP and, unlike in the case of Bitcoin, completing a transaction is far less resource intensive - both in cost and computing power required.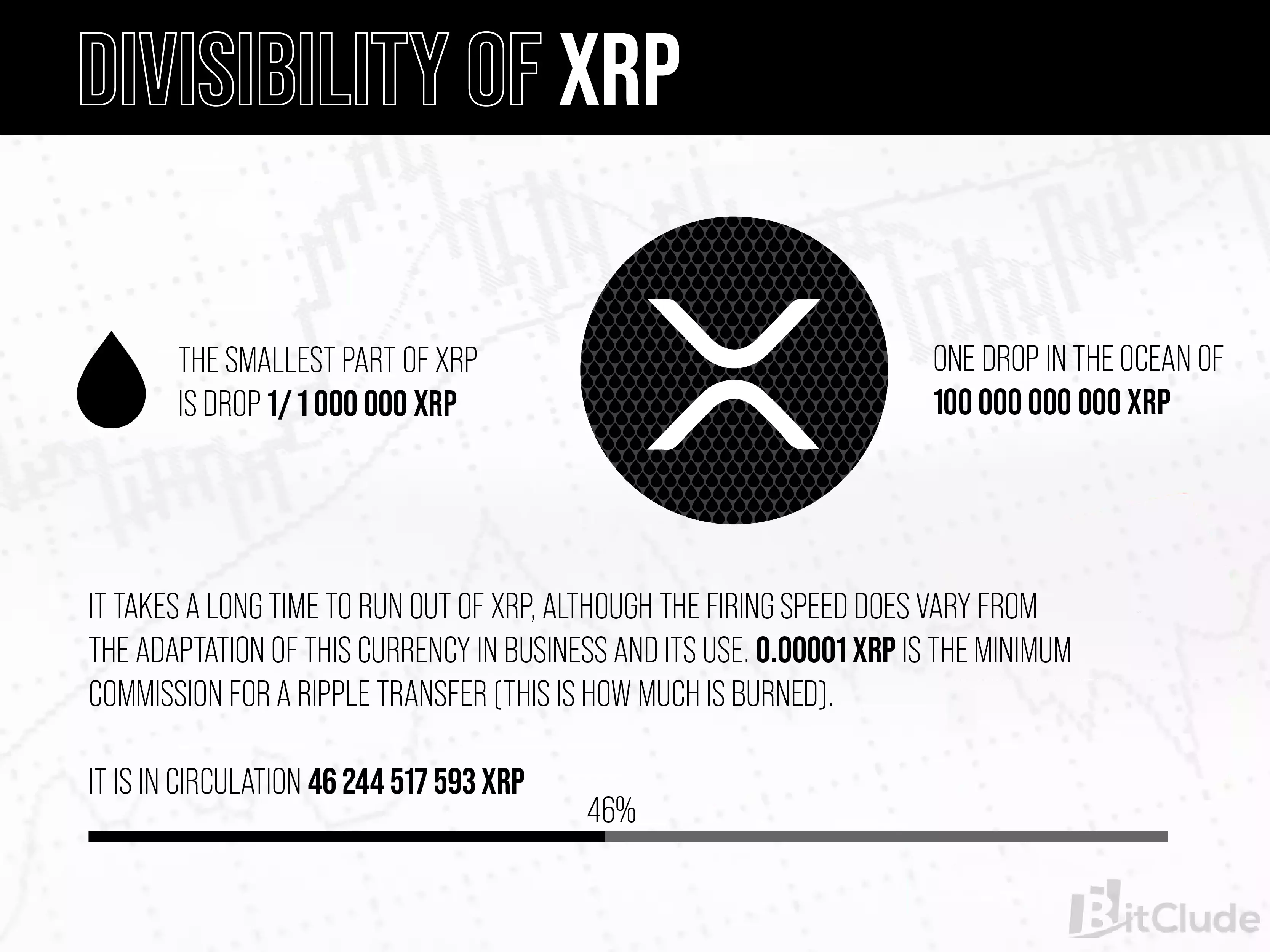 Controversy over the decentralisation of XRP
Despite management assertions that XRP is as, or even more, decentralised than Bitcoin and Ethereum, there are indications that present the very opposite state of affairs. Authors who have undertaken investigations into the centralisation of XRP accuse Ripple of lying about the facts.
The controversy stems from the fact of XRP's specific transaction confirmation model - RPCA (Ripple Protocol Consensus Algorithm). RPCA, unlike the PoW method, relies on nodes that are not paid - they are volunteers who make huge financial outlays to confirm transactions.
Out of 1000 nodes, there is a smaller group of 33 nodes, called the Unique Node List (eng. UNL), which is selected by the entire group. A transaction is only finalised when 80% of these 33 confirm it.
This is where the problem arises - the list of Unique Nodes relevant to confirming transactions is chosen by Ripple. In theory, it is possible to select other nodes beyond those recommended by Ripple, but this rarely happens. Since launch, there have been few documented cases of non-UNL nodes gaining access to one of the privileged sites. Ripple directly controls 6 nodes, while indirectly influencing at least another 4 nodes through grants.
Fork XRP - a chance to free the currency from corporations!
Theoretically, a fork of XRP is possible, which would disconnect the currency from Ripple, but due to the company's strong position - this has never happened and probably never will. In the meantime - Bitcoin (which according to Ripple Labs representatives is less decentralized), has already gone through more than 100 forks.
Why is decentralisation important?
Centralising and concentrating the power of cryptocurrency in one hand, could result in a rapid loss of value. What will happen if Ripple decides one day that it will no longer use XRP in its system? The cryptocurrency will become worthless in an instant. Meanwhile, in the case of Bitcoin, even if a significant company withdraws BTC from use (for example, as happened with Tesla), Bitcoin will not collapse - only its price will change - depending on investors and market makers.
Who created Ripple (XRP)?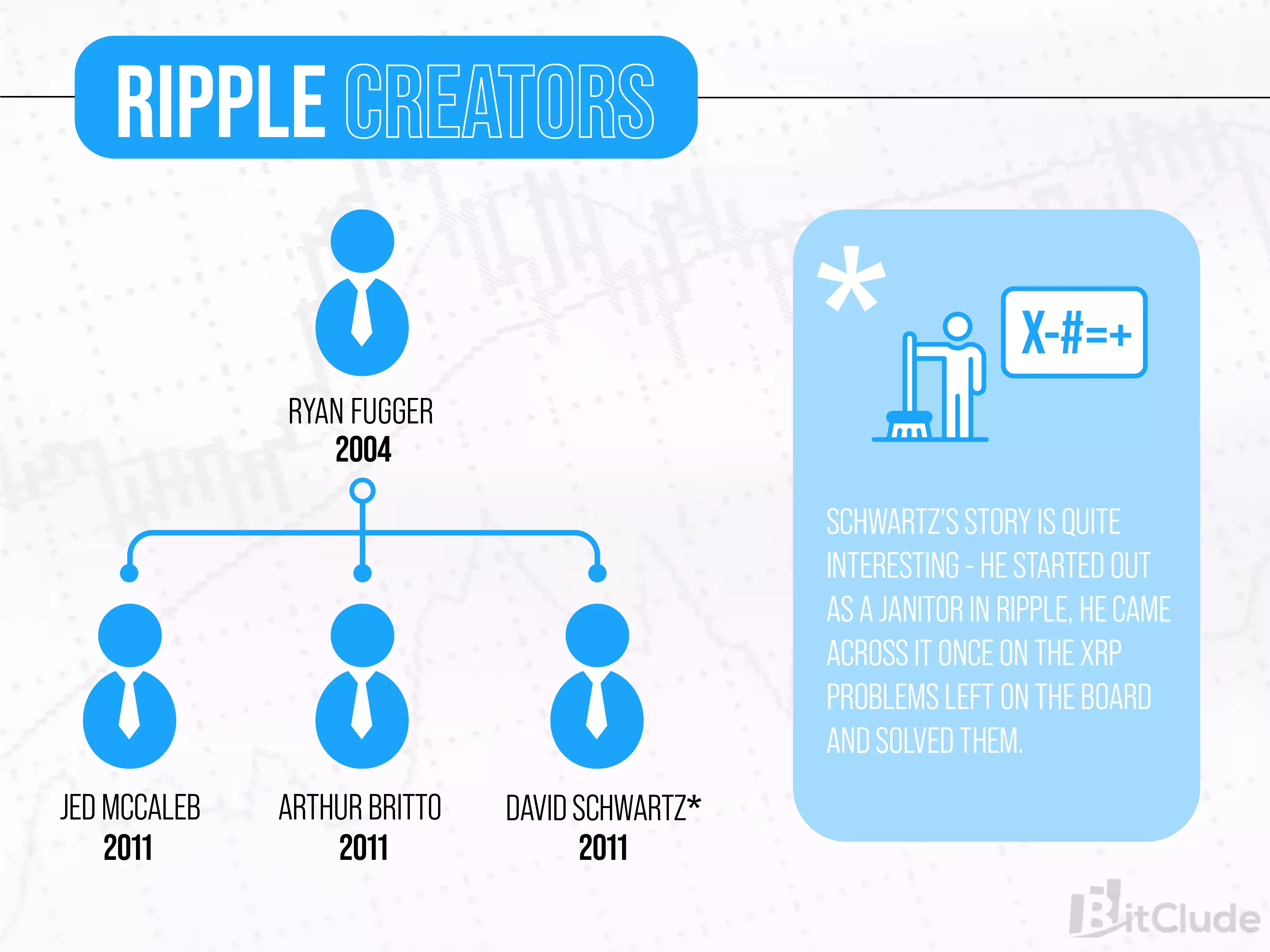 As you already know, Ripple's creator and forerunner ahead of Satoshi was Ryan Fugger, who wanted to provide the world with cheaper, faster and more secure international transactions. In 2011, RipplePay was acquired by Arthur Britto, Jed McCaleb and David Schwartz, who created the now famous Ledger version of XRP.
Who is Ryan Fugger?
Ryan Fugger is a developer who, before creating Ripple, worked on a local currency trading system in Vancouver. One of the last news stories to emerge about Ryan Fugger in 2017 indicated an ongoing interest in the world of cryptocurrencies - Ryan was involved as an advisor in another project, Clout, which is sometimes reported on exchanges.
Arthur Britto is the co-founder of Ripple acquired in 2011, he contributed to the creation of the XRP currency. In 2017, he became involved with David Schwartz in the PolySign project - of which he was co-founder and CEO. Interestingly, the founder of one of the largest currencies remains anonymous - no photo of him is available online.
Who is Jed McCaleb?
Jed McCaleb is an American software developer, entrepreneur and philanthropist. Until 2013, Jed was co-founder and CTO at Ripple. Prior to his involvement in crypto, in 2010, Jed created the cryptocurrency exchange, Mt. Gox, which he sold a year later. He is currently co-founder and CTO of Stellar.
Who is David Schwartz?
One of the brightest minds on board Ripple, he repeated the story of Will Hunting from the movie Good Will Hunting - he started working at Ripple as... caretaker. David decided to expand his responsibilities by solving complex problems related to Ripplnet and the XRP ledger. The tasks were obviously not dedicated to the caretaker - they were simply left on the board. Currently, David serves as the CTO at Ripple.
What is the supply of Ripple?
The supply of XRP, has been top-down set at 100,000,000,000. All tokens have been dug up and are being ratably put into circulation by the Ripple Company. Currently, the data source indicates that there are 46,244,517,593 XRP in circulation, which is not even half of the maximum supply (46%).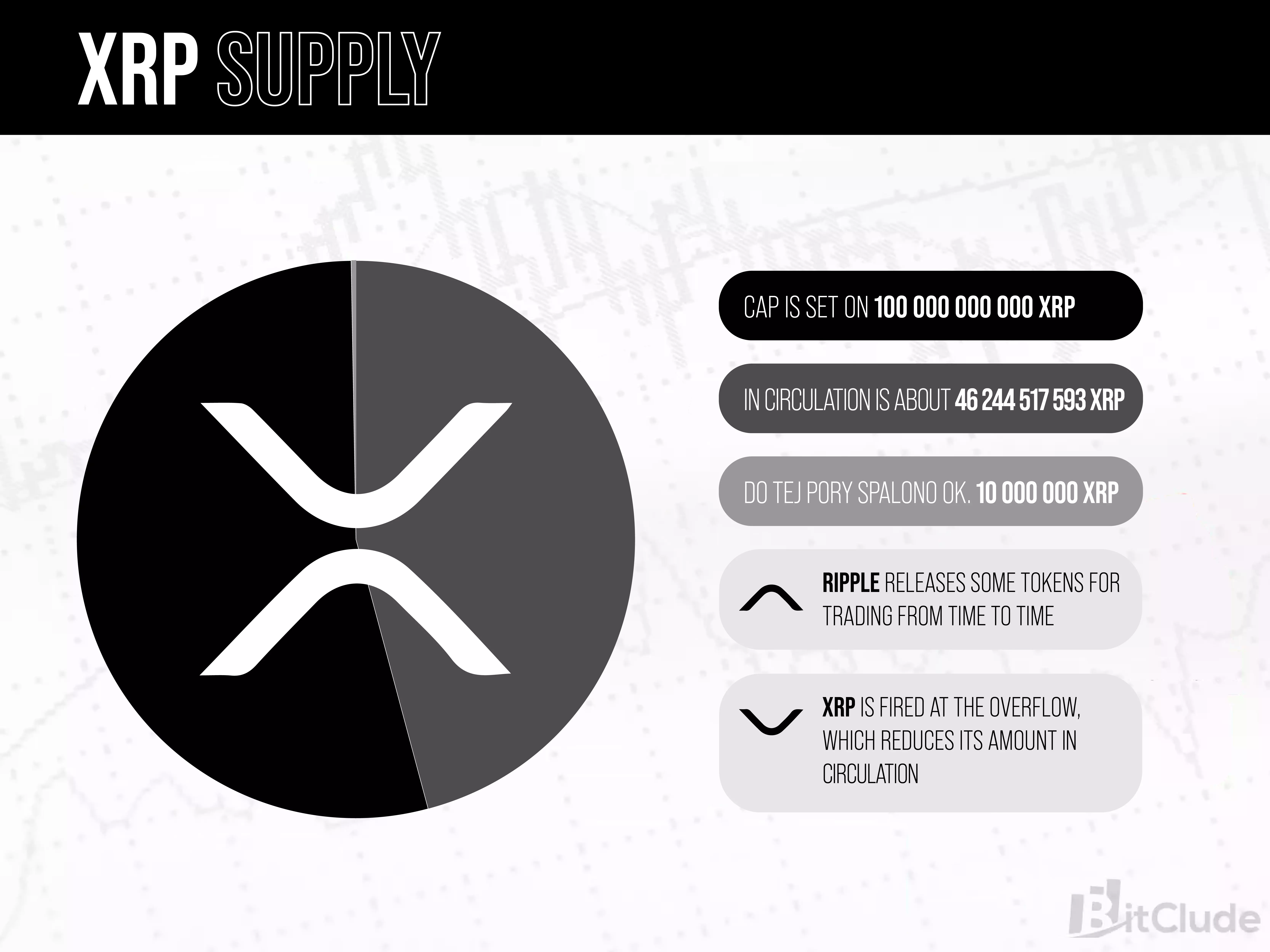 The amount of XRP will go down!
XRP is a deflationary currency - each transaction burns a specific, very tiny amount of digital money. The deflationary nature of XRP affects its exchange rate and certainly the currency's top price (ath) will be multiplied over time.
So far, almost 10,000,000 XRP have been burned through transfers in this cryptocurrency.
Factors affecting the XRP exchange rate
The XRP exchange rate is vulnerable to declines, but as is common in cryptocurrencies - volatility is not alien to it. The chart illustrates the continuous rise in value since the listing of this cryptocurrency on exchanges. In 2017 XRP price surprised users and grew by as much as 36,000%! What factors influence the changes in the exchange rate of the currency in question?
The 4 main factors influencing the XRP price chart:
Use of cryptocurrency by institutions and banks - Ripple Net is currently working with a number of huge institutions. Their acceptance of one of the cryptocurrencies causes a huge enthusiasm in the cryptocurrency market, which has a direct impact on the volume of exchanges and the increase in the price of many currencies - not only XRP. Institutions that have partnered with Ripple include Bank of America, American Express, Santander, MoneyGram, Royal Bank of Canada and National Bank of Abu Dhabi;


Demand and dwindling supply - Huge increases have created huge interest in this cryptocurrency, which has translated into a viral rise in popularity of this currency. The dwindling supply will gradually increase the value of the cryptocurrency, although a noticeable decline will be seen in tens or hundreds of years (depending on how quickly the cryptocurrency adapts in business or institutional solutions);


Conflict with the SEC - In late 2020, Ripple's ongoing battle with the SEC (United States Securities and Exchange Commission) - or the US Securities and Exchange Commission - began. The case is over the SEC's perception of XRP, as the commission insists that XRP is a security and should be registered as an investment contract. The community has perceived the lawsuit against XRP as an attack on cryptocurrencies and has sided with it, although there is no shortage of sceptics who argue that XRP is a denial of the free ideas behind cryptocurrencies;


Opinion of the crypto community - Centralized XRP stands in opposition to the free idea of BTC, which worries many crypto enthusiasts. Clients of exchanges are often not bothered by the ideas and philosophies behind cryptocurrencies, which translates into high trading volumes despite the scant value of a particular cryptocurrency. The liquidity of the XRP market is strong, which makes the number of enthusiasts of this cryptocurrency noticeable.
Ripple wallet - Which wallet to choose to hold XRP?
Depending on your intentions for your cryptocurrency, you need to consider how to store it. The most common way to store XRP currency is through a hot wallet, usually in the form of an account on a cryptocurrency exchange.
There are also dedicated apps - also qualified as hot wallets - that greatly simplify storage and allow payments to be made between users. One of the most popular wallets, loved by users, is Electrum, among others.
For Hodlers who don't intend to transfer funds, we recommend cold wallets, which have the highest level of security but are also an additional expense. Examples of cold wallets that may interest you are Ledger and Trezor.
Before you fill up cryptocurrency wallet, Be sure to check out the XRP PLN exchange rate!
Is it necessary to buy the entire XRP cryptocurrency?
The price of XRP is rather small, which forces the user to buy at least one XRP - which does not mean that the cryptocurrency does not split into smaller units. Transaction fees, are made by burning the smallest part of the cryptocurrency - the drop, which is 1/ 1,000,000 XRP. In the world of cryptocurrencies such divisibility is nothing unique, we remind you that BTC is divided into Satoshi, or 1/100,000,000 BTC, but for comparison with traditional finance - the dollar is divided into only two decimal places.
Is it safe to invest in Ripple?
The history of listing XRP on major exchanges begins in late 2017 and early 2018. Barring sharp increases, the rate of this currency has remained at similar levels. Through criticism from the crypto community and the controversy the currency is involved in, stable growth is rather out of its reach. Its biggest issue, centralisation, puts it in opposition to BTC and currencies that seek to decentralise and provide users with freedom from financial authorities.
CFDs are available in tandem with XRP, although these are characterised by rather low volume and high risk, so the community is more inclined to buy cryptocurrencies rather than invest in cryptocurrency-based options.
Is Ripple better than Bitcoin?
Ripple stands in worldview opposition to BTC. Despite the long history of the two projects, the community is sincerely committed to Bitcoin and believes in its success. BTC is not a product of corporations, nor was it created as a tool for financial institutions - only as a remedy for society's dependence on banking institutions.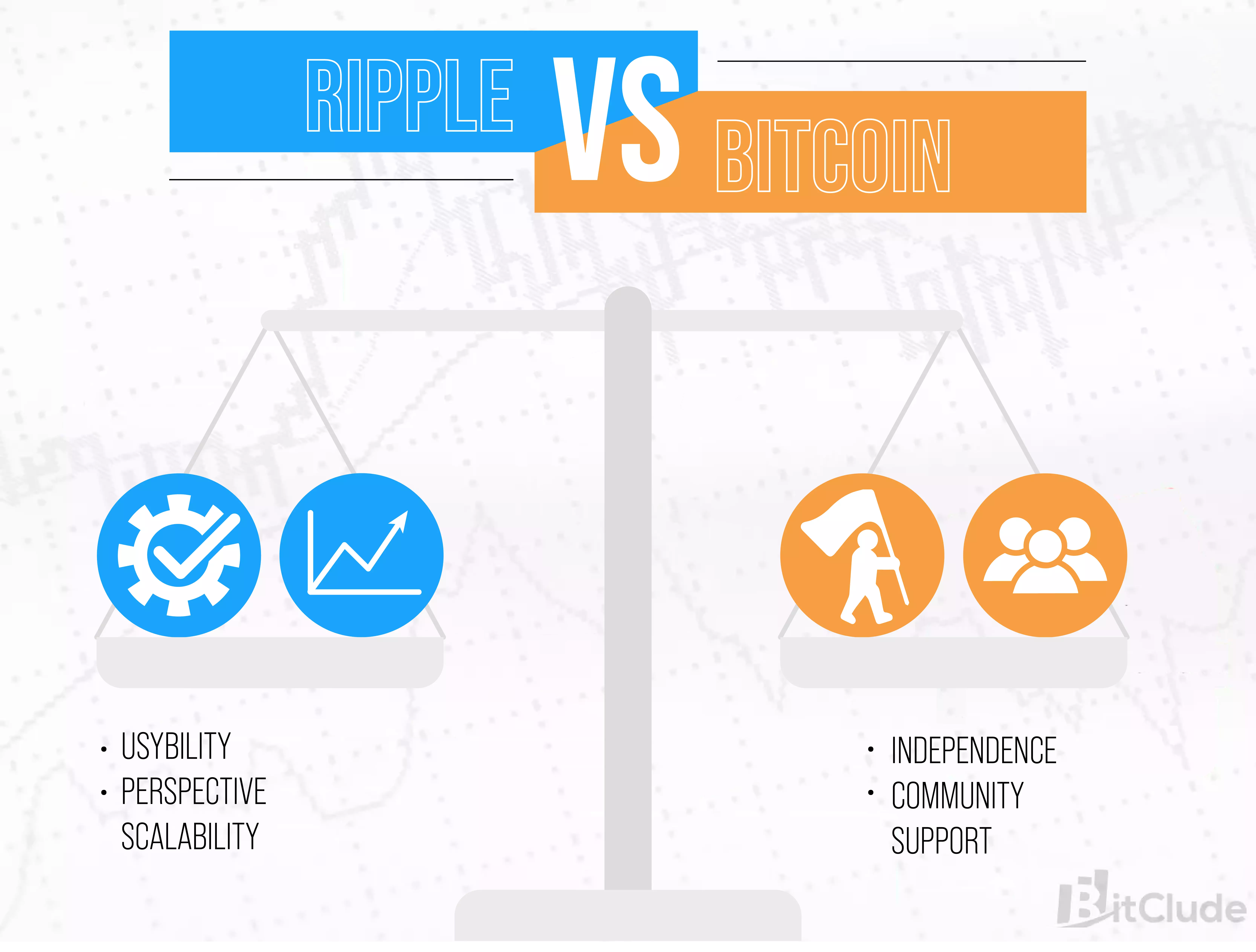 The fact that has to be given to XRP is its usability. The BTC network is poorly scalable and is subject to frequent clogging, which increases the cost of transferring funds and waiting times. XRP is not affected by this, the scalability of this currency will continue to grow and according to the data will soon surpass the performance of VISA.
Is XRP better than BTC? There is no single and universal answer to this question - it is purely subjective. If you want to transfer funds from Germany to Australia at lightning speed and low cost - you won't be disappointed with XRP, but despite its flaws, Bitcoin is the force that drives the idea of freeing money from institutions that guides every current cryptocurrency.
If trading with Ripple doesn't scare you anymore, check out the XRP PLN rate and buy crypto like a real broker from the exchange!

The XRP PLN price is , which means that the market capitalization is